Careers Fair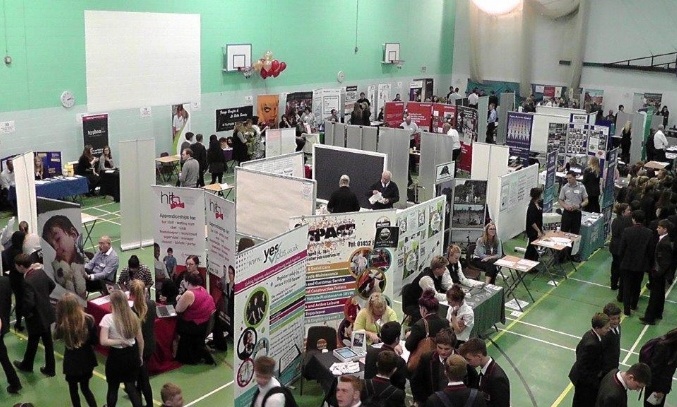 Once again we had a fabulous turnout for our annual Careers Fair.
As a school we place a premium on ensuring our students receive high quality, independent career advice. A key element of our provision is the annual Careers Fair. This year an amazing 62 organisations generously gave their time to help our students widen their horizons and raise their aspirations.
The annual Careers Fair is especially important for Year 11 students who need to have a robust Post 16 plan in place. Year 10 and younger students were also wowed by the information and range of opportunities open to them.
A huge range of educational facilities were represented including universities, training providers, school sixth forms and colleges. Local employers, some offering apprenticeships, and advisory bodies were keen to pass on information about areas of work, and give students direction on the qualifications, life skills and attitudes employers look for. Other organisations encouraged students to take advantage of the CV boosting and confidence building activities and opportunities they offer.
Students in Years 10 and 11 enjoyed a half hour visit to the Careers Fair during lesson time, and then all years, along with students' families were invited after school for Open Hour. Parents found the event useful to update their own knowledge, and were delighted to be able to support their children to make informed decisions.
A massive thank you to all of the organisations who gave so generously of their time. Here's looking forward to next year's event which promises to be even bigger and better.