Headteacher's blog 15-1-21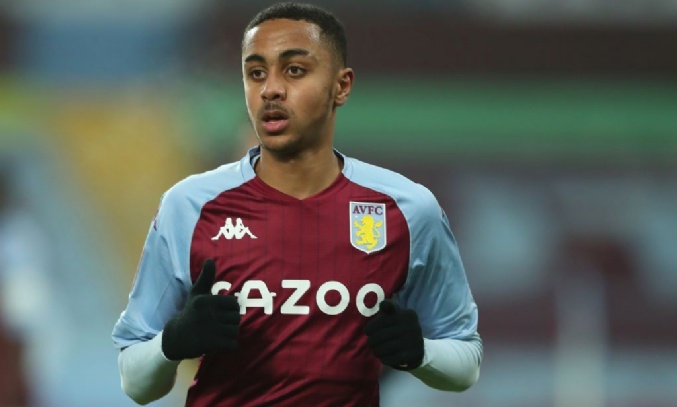 All eyes were on ex-Severn Vale student Harrison Sohna as he made his debut for Aston Villa recently
Week 2 of the school lockdown is complete. The news seems to be dominated by some truly grim statistics currently which certainly does highlight the seriousness of the situation we find ourselves in. Fortunately, there does appear to be some light at the end of the tunnel in terms of the progress being made with the vaccination programme.
In school we are all getting used to delivering our remote learning offer. Overwhelmingly this seems to be progressing well. The attendance and engagement of the students has been really impressive. Across all year groups the students have adapted well and they are getting to grips with the particular challenges associated with remote learning. As well as the challenges, there are also opportunities and I know from my own classes that the nature of the learning has also given the chance for different students to shine.
What has been truly unbelievable has been the level of support we have received from parents. I have been absolutely inundated with emails thanking staff for the quality of their lessons and the school's provision. It is a real tonic to receive these message and is truly appreciated by all of the staff.
We are always seeking to develop our provision and are constantly evaluating what is being offered. For our Key Stage 4 students we have developed a range of paper based resources to complement their online delivery. The collection of these resources took place today and went very smoothly. One theme that has emerged from students, parents and staff is the lack of a break between individual lessons and the need for extended periods of screen time as a consequence. To address this, from Monday 18th January we will be reducing lesson length from 55 minutes to 45 minutes. This will give all involved a break between lessons, allowing them to stretch their legs and most importantly giving them a break from the screen. I believe this slight reduction in lesson length will be more than compensated for in an increase in the quality of learning.
Despite the fact that most students are making good progress with their learning, I know from conversations I have had with students and parents that a number of students are finding the current situation really difficult. That is only to be expected. Please remember that our staff remain available to support the students. The best points of contact are always the Tutors or the Heads of Year. There is also a wealth of well-being material and links on the school website here.
In addition to our remote learning offer our in-school provision for the children of key workers and other key groups continues. The numbers have increased slightly this week but the provision remains at a manageable level. As always, I would like to thank parents for only using this provision when they absolutely have to.
Alongside our remote learning offer and key worker provision, we are also in the process of finalising our facilities to deliver the Government's Lateral Flow Testing programme. This week we are starting with the testing of staff. Friday has been designated our testing day so we will all be undertaking our tests sometime today. Our testing for students starts next week when we begin the regular testing of students in school as part of our key worker provision. This should provide us with a useful learning experience prior to us potentially rolling the programme out more fully should we be expected to do that.
One of our fabulous NQTs, Miss Ramsey, led a truly inspiring project with our Year 7s before Christmas. This project asked the students to write letters to members of our community living in nursing homes or hospices who may not have been able to see their friends or family over the festive period. With their tutors, the students were able to discuss how these members of our community may have been feeling and what they could do to help make someone smile.
In Miss Ramsey's words: "The responses and letters produced by year 7 were incredible!! I had the absolute pleasure of reading through most of them, and some of the words written and illustrations drawn were beautifully heartfelt and caring. A BIG thank you to the Year 7 tutors for supporting their students to write such wonderful things and helping to put together an incredible collection of letters and to the students for such a wonderful response!"
This week, we received an email from one of the nursing homes expressing their gratitude, and saying how lovely it was to read all about our Year 7 students and how understanding they were about the current situation. A massive thank you to Miss Ramsey for leading this project and to the Year 7 students for embracing it and for demonstrating the empathy evident in their letters.
Last Friday I was watching the FA cup on television and was delighted to see ex-Severn Vale student Harrison Sohna playing for Aston Villa. Harrison left Severn Vale in 2018, and along with his twin Myles, is a member of the Aston Villa Under-23 squad. It was fabulous to see Harrison realise his ambition of making his first team debut. To do that against the current premiership champions must have made it all the more special. We wish both Harrison and Myles well in their pursuit of a professional career.
As always, I include my weekly reminder about Free School Meals eligibility. If your financial circumstances have changed, your child may be eligible for Free School Meals. If you click on this link you will find guidance on the eligibility criteria and the application process. It's a quick process and we are notified of all FSM entitlements by Gloucestershire County Council each Monday. I would urge you to take a look if you think you may benefit from financial assistance.
To end this week I thought I would share some of the Zoom stars identified by our staff over the past week. I have already mentioned how impressed we have been with the fabulous response from the overwhelming majority of our students. I thought it would be lovely to get the staff to nominate students who had absolutely excelled in terms of their engagement and work produced. So, here are this week's Zoom stars:
| | | | | |
| --- | --- | --- | --- | --- |
| Year 7 | Year 8 | Year 9 | Year 10 | Year 11 |
| Joe Hawkins | Maddie Woodger | Michael Merrett | Keon Sanniola | Abby Davies |
| Sydney Lay | Robert Walker | Ella Toms | Nathan Asante- Otchere | Jack Cook |
| Christopher Moroney | Beatriz Silva-de-Faria | Callum Lee | | Kacey Bayliss |
| Evie Bell | Oli Hansen | Evan Green | Dylan Bartlett | Amy Hobbs |
| Maisie Harlock | Isobel Higgs | Amber Rowles | Ben Pritchard | George James |
| Jayden Davenport | Szymon Beeger | Shanaya Taylor | Finn Creese | Chloe Quick |
| Charlie Ward | Ethan Garwood-Wyatt | Riley Chandler | Sitranan Pulong | Stephon Brandford |
| Lucas Prewer | Henry Driver Dickerson | Harrison Page | Jake Thompson | Marley Oliffe |
| Grace Miller | Zane Hunt | Danteiye Hawes | Denecia Blake | Ayesha Diallo |
| Freya Bingham | Zara-Mai Luter | Edie Dowdeswell | Jorell Sanniola | Max Wheeler |
| Riley Ashworth | Oliver Leonard | Melanie Torres | Tom Wager | Amiya Ryan |
| Lily Symonds | Matthew Bartlett | Pippa Anderton | Liv Otterwell | Calum Preece |
| Oliver McDade | Danny Roberts | Tom Greenaway | Jack Osbourne | Sam Dean |
| Grace Dyer | Oliver Leonard | Ruby Williams | Shana Walsh | |
| Finley Turley | Jack Amos | Alex Ip | Molly Newman | |
| Christina Newman | Ryan Trigg | Ben Sachs | Ruby Thurston-Booth | |
| Isabella Murray | Brandon Bailey | Cerys Screen | | |
| Sasha Riddler | Maja Burkacka | Olivia Daglish | | |
| Ruby Jones | Savannah Link | Caitlin Loombs | | |
| Edward Warriner | Ashley Whitmore | MJ Davies | | |
| Amy Northmore | Gracie Wintle | Michael Merrett | | |
| Lilly-Anne Wood | | Anja Brotherston | | |
| Noah Scourfield | | Molly Voyce | | |
| Ade Popoola | | Oliver Matthews | | |
| Filip Skiba | | Thomas Bingham | | |
| Chris Blythe | | Finlay Tanner | | |
| Kobie Chew | | | | |
| Olivia Sargent | | | | |
| Evie Bell | | | | |
| Amy Northmore | | | | |
| Charlie Ward | | | | |
I look forward to sharing the names of more Zoom stars next week.
All this left for me to do is to wish you a safe and a healthy weekend! Do look after yourself and your family.
Kind regards
Richard Johnson
Headteacher