Headteacher's Blog 8-10-21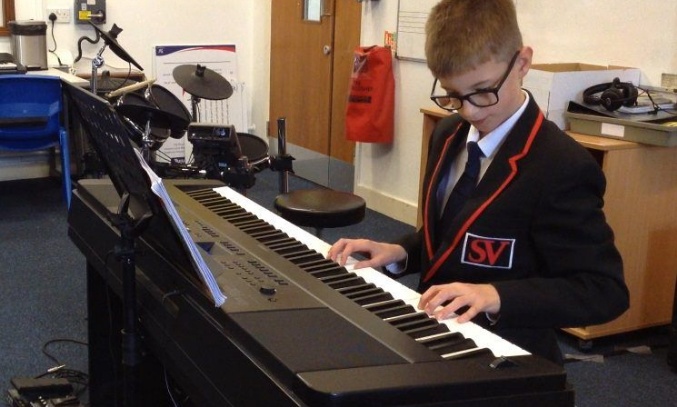 It was performance platforms this week for our budding musicians
This week saw students across Years 7 - 11 enthusiastically practising, rehearsing, being coached and performing in our term 1 lunchtime platforms - our first performance opportunity of the year. The sound of a vibrant music department has been great to hear with students performing as singers, pianists, guitarists and drummers in a range of solos, duos and a band (trio) too. The musical interests of our students has also been very enlightening for our Music team and audiences - various piano and guitar solos, songs from musicals and films, Ed Sheeran, ABBA and AC/DC songs and 1990s / 2000s classic pop are just a few examples of the repertoire performed over the week. I know Mr Martin and Mr Khokher would like to thank all students involved for sharing their musical abilities with others and for such a promising start to our SVS musical year.
On Thursday we had the first of our Year 11 Business Breakfasts which was attended by Gloucestershire College. Eighteen of our Year 11s enjoyed a selection of pastries and fruit juices while discussing post-16 options open to them at Gloucestershire College. The focus this week was on the construction industry (from site management, to surveying to bricklaying), early years (from birth to primary school), hairdressing and motor vehicle mechanics. Our next Business Breakfast is on Tuesday 2nd December when we have invited Midlands Air Ambulance to come and meet our Year 11s.
A plea for help!!! Are you able to help mentor a team of seven students for ONE day? Becoming a Young Enterprise mentor for one day will challenge and reward you. The excitement and satisfaction of mentoring the potential winning team will hopefully mean you'll want to be involved next year as well! With your experience and guidance they will work in a team of seven to solve a business problem. Your role will be to guide, advise, mentor and encourage them to produce the final polished sales pitch. I would be very grateful if you would consider being a mentor on either or both of the 6th and 7th December (from 8.45 - 3.10). Breakfast, Lunch and free parking will be provided, as will a brief for the day. No experience in mentoring is needed, just enthusiasm for working with young people.
If you are able to volunteer for 1 or 2 days, please email: vmartin@severnvaleschool.com or phone 01452 720458 ext 213 for more details.
As always, I conclude with my weekly reminder about Free School Meals eligibility. If your financial circumstances have changed, your child may be eligible for Free School Meals. If you click on this link you will find guidance on the eligibility criteria and the application process. It's a quick process and we are notified of all FSM entitlements by Gloucestershire County Council each Monday. I would urge you to take a look if you think you may benefit from financial assistance.
I do hope you have a great weekend.
Regards
Richard Johnson
Headteacher