Headteacher's Blog 15-10-21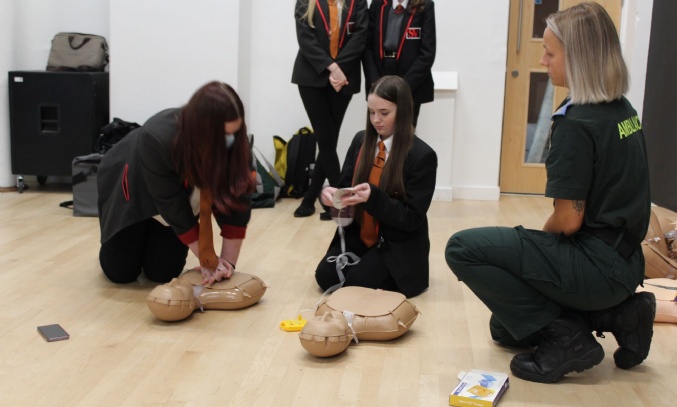 Year 10 H&SC students enjoyed a fabulous session with the Great Western Air Ambulance Charity learning CPR skills
The penultimate week of term is drawing to a close. Following the difficult past 18 months it has been really heartening to have a school that is operating almost normally. The number of cases in school remains low, a full range of extra-curricular activities is taking place and most importantly lessons are operating normally. Whilst I am clearly aware that the pandemic is not yet over, I do remain optimistic that school life can continue to operate as normal.
I do know that we have been fortunate in that the number of cases involving our students has been quite low; other schools locally have not been so fortunate. One way you can help to ensure that this remains the case is by encouraging your son / daughter to take part in the Lateral Flow Device testing programme. This will ensure that asymptomatic transmission is kept to a minimum. Contact lfdtesting@severnvaleschool.com if you would like more details. Thank you in advance for your continued support with this.
For this year's Year 7 we made the difficult decision to remove Music from their curriculum for one year to enable us to provide extra English and maths lessons as part of our work to try to minimise the impact of the pandemic on their learning. To ensure that the students still have creative opportunities we have started the Big Sing with our Year 7 tutor groups. The Big Sing will see all the tutor groups learn specific songs which they will then perform with two other groups in celebratory concert before Christmas. It has been a delight to see how positively the students have responded and how enthusiastically they have been practising. I was also pleased to see that nearly 40 of our Year 7 students have signed up for the Brass Band England taster sessions.
This week saw over 90 students take part in visits to the Cheltenham Literature Festival. The school is lucky to enjoy excellent links with the festival and every year we have been able to provide a range of fabulous opportunities for the students able to attend. This week's visits included:
Year 7 – attended an authors' talk with Kereen Getten and Struan Murray entitled Island Life
Year 8 – attended the Tongue Fu: The Hot Poets Show, an incredible improv of music and poetry
Year 9/10 – attended an author talk with Dean Hatta who was discussing his novel The Black Flamingo
I am delighted to share more sporting successes enjoyed by Severn Vale School students:
William Burnett in Year 9 has been selected to join the Gloucester Hockey academy team
Seb Whitelock in Year 11 has been selected to play rugby for Gloucester District U16s
Zane Hunt in Year 9 continues to excel in his tumbling and has been training with the England squad in Southampton over the summer
Justin Newton in Year 10 continues to excel at MMA and has recently secured his place on the England Squad youth team to fight in Las Vegas in summer 2022
Keon Sanniola in Year 11 continues his academy training with Aston Villa
If any other parents have information regarding other sporting successes enjoyed by our students please do let the PE department know.
One of my absolute highlight's this week was watching our Year 10 Health & Social Care students learning CPR with the team from the Great Western Air Ambulance Charity. The students got to work with an amazing team, including a trainee paramedic and an A&E doctor, learning this vital skill ahead of Restart a Heart Day on 16th October. CPR can make a huge difference in terms of the chance of an individual surviving an out of hospital cardiac arrest and whilst we hope the students never need to use this skill, having this training could enable them to save a life. I am enormously grateful to the Great Western Air Ambulance Charity and to Ms Stead and Mr Pockett for organising this outstanding opportunity for our students.
As always, I conclude with my weekly reminder about Free School Meals eligibility. If your financial circumstances have changed, your child may be eligible for Free School Meals. If you click on this link you will find guidance on the eligibility criteria and the application process. It's a quick process and we are notified of all FSM entitlements by Gloucestershire County Council each Monday. I would urge you to take a look if you think you may benefit from financial assistance.
I do hope you have a great weekend.
Regards
Richard Johnson
Headteacher