Headteacher's Blog 25-11-21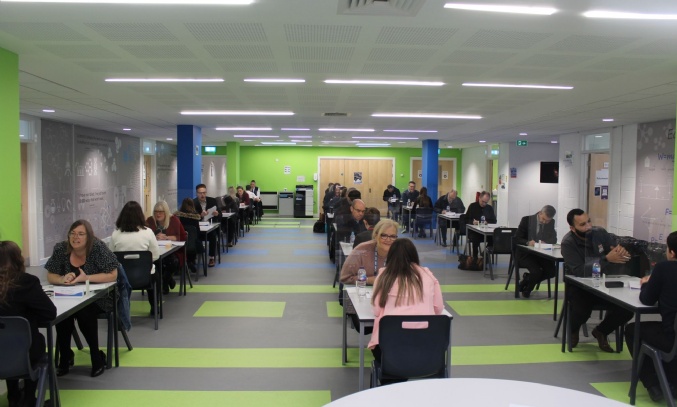 A short but busy week with our Flexible Learning Day providing a range of opportunities for our students across all years
Today saw our first Flexible Learning Day of the academic year, and it was a joy to see the students engaging in the wide range of learning opportunities taking place. From post-16 visits to employment and interview skills, taking in a Dragon's Den style enterprise activity and first-aid training to list some activities taking place. FLDs are a key part of our curriculum enrichment and enable us to deliver some really important parts of our wider curriculum, including some of our statutory requirements. The day only works because of the support from a huge number of individual volunteers and outside agencies. A huge thank you to them all.
Last Friday evening 25 of our students from Years 7 – 11 had the unique opportunity to perform with 3 other schools and the Multi-Story Orchestra in a performance of Our Future In Your Hands. The event was organised by Strike a Light, a Gloucester-based organisation striving to make Gloucester a city with a vibrant culture for all and took place at GL1 which was transformed for the evening into a music venue. For the students this was a great chance to perform alongside a professional orchestra. Thanks go to Strike a Light for including Severn Vale in this performance and to the Music department and in particular Mr Khokher for supporting the students through the auditions and rehearsals.
Our Year 10 Health and Social Care and Computer Science students were fortunate enough to be part of an amazing session run by Smartbox, a company who design and manufacture assistive technology solutions for people with communication difficulties. The students had the chance to use and experience alternative technologies such as an eye-typer, head mouse and other assistive devices. The team from Smart box talked them through the reason for requiring these devices, including showing some thought-provoking videos of people whose lives have been transformed through being able to communicate differently as well as the design process, the different job roles involved in the creation from design to finished product and their own personal career paths into Smartbox. The session linked strongly to both subjects GCSE specifications – Communication for Health and Social Care and Hardware/Software for Computer Science. A massive thank you to Smartbox for providing the students with such an amazing experience.
Mr Khokher and Miss Evans have had a busy week adding extra cast member to the "Party". The We Will Rock You cast has now grown by an extra 9 students, and I look forward to hearing how they are getting on in the coming weeks.
Tegan Rees 7R - Teen Queen & Super Yuppie
Alice Parr 7G - Gaga & Bohemian
Kayleigh Temple 7R - Gaga & Bohemian
Amiee Harrison - 7Y - Gaga & Bohemian
Lauren Barrett - 7T - Gaga & Bohemian

Amelia Godding - 7V - Gaga & Bohemian
Ellie-Mae Storer - 7Y - Gaga & Bohemian
Sophie Gillam - 7V - Gaga & Bohemian
Eryn Burns - 9G - Teen Queen & Super Yuppie
Unfortunately Covid remains a reality for both students and staff with a stubbornly persistent number of cases again this week. We know that one of the best ways to reduce the chance of infection and the associated disruption to their education is for your child to be vaccinated. If your child missed the original vaccination slot there are still opportunities for catch-ups. This includes Year 7 students who have now turned 12 years of age. Catch-ups are taking place at drop-in clinics at several GP-led Primary Care Network vaccination sites. One will be taking place at Rosebank Surgery this Sunday (28th November) from 9.00am – 2.45pm. A full list of dates are here and will be added to as more clinics are scheduled. More information about the children's vaccination programme, including links to FAQs, can be found on the Gloucestershire NHS COVID portal.
As always, I include my weekly reminder about Free School Meals eligibility. If your financial circumstances have changed, your child may be eligible for Free School Meals. If you click on this link you will find guidance on the eligibility criteria and the application process. It's a quick process and we are notified of all FSM entitlements by Gloucestershire County Council each Monday. I would urge you to take a look if you think you may benefit from financial assistance.
Finally, please remember that tomorrow (Friday 26th November) is an INSET day for staff only.
Have a great weekend.
Kind regards
Richard Johnson
Headteacher