Headteacher's Blog 20-5-22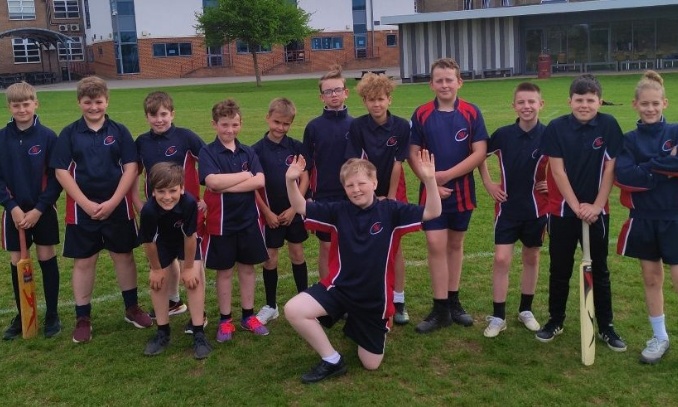 Summer sports have started with our Year 7s getting their first cricket experience in a recent event at the Crypt
Week 1 of the GCSE season 2022 is now complete. It has been a busy week with exams on most days for all students. I have been incredibly impressed with the attitude and conduct demonstrated by the Year 11 students throughout the week. If they gave grades for this they would all be deserving of grade 9s!
The exams keep coming thick and fast next week. Maintaining energy levels, getting enough sleep and generally looking after themselves becomes a key task for the students. This year's exam season is longer than usual so keeping on keeping on becomes absolutely critical. Thank you to all the Year 11 parents who have the often thankless task of providing support at home to the students during this challenging period.
One activity that I would recommend to the Year 11 students, indeed to all of our students, would be to join the end of week runs that began last Friday. It was a joy to see the hundred plus students and staff taking advantage of this fabulous opportunity to get out and run / walk between 3 and 5km. It would be fabulous to see even more students there this week and in the future.
Last Friday also saw 160 plus students collecting computers that had been allocated to the school by the DfE. It is great to know that potential IT access issues will have been addressed for so many students, ensuring that there is much greater equity and fewer barriers to learning outside of school.
On the sporting front summer sports have come to the fore. Our Year 7s took part in a fantastic participation event at Crypt School. The event gave the students lots of experience of batting and bowling and having fun in a low-pressure environment. We host Barnwood next week and then we are at Crypt again after half term, joined by Churchdown and Holmleigh Park for what should be another great event.
The year 8 Cricket team got their season underway with an excellent win against Holmleigh Park. The boys batted very well with Mason Fawlk and Sam Pritchard leading the way. The bowling of the team was much improved and was followed up with some excellent fielding from Dylan Barnes, Jacob Brown and Jamie Hebron. An impressive start to the season!
On Tuesday, our year 10 rounders team played their first fixture of the season against St. Peters. Initially the ladies were feeling a bit nervous having not had many fixtures over the past 2 years, but they settled into the rhythm of game well as soon as we began. Player of the match went to Chanelle Wood.
As always, I include my weekly reminder about Free School Meals eligibility. If your financial circumstances have changed, your child may be eligible for Free School Meals. If you click on this link you will find guidance on the eligibility criteria and the application process. It's a quick process and we are notified of all FSM entitlements by Gloucestershire County Council each Monday. I would urge you to take a look if you think you may benefit from financial assistance.
Have a great weekend.
Kind regards
Richard Johnson
Headteacher