Headteacher's Blog 27-5-22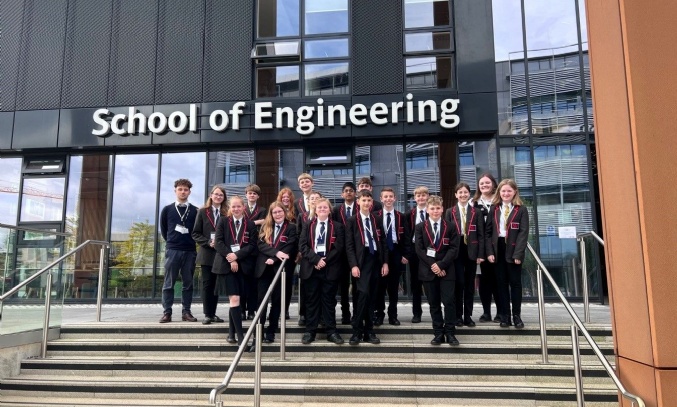 Students from our Year 7 and 8 science club took part in a sustainable energy project at the University of the West of England
It's been a really busy week as the term draws to a close with lots of activities for students across the year groups. For our Year 11 students this has been the second week of their GCSEs. They have continued to adopt an excellent attitude towards their exams and have conducted themselves faultlessly throughout. The half-term break will give them a much needed opportunity to recharge their batteries and to revise for the second phase of their exams.
There have been a number of standout enrichment activities this week in a further sign of a return to normality. Students from our Year 7 and 8 Science Club attended a much-anticipated celebration event for the Sustainable Transport Challenge at the University of the West of England's School of Engineering. Inspired by the Atlantic Challenge undertaken by The Bristol Gulls, the students had spent several months researching and designing an eco-friendly, sustainable vehicle to travel a 1,000 mile journey. They had also planned the route as well as meals and clothing that would be fit for purpose, and last the entire journey. It was a very enjoyable and inspiring day for the students. Thanks to the staff for supporting the students and most importantly to the students themselves whose hard work saw them earn a place at this celebration event.
This week also saw 50 of our Year 9 students visit the University of Gloucestershire's Oxstalls campus for an Insight to University Day. Students found out more about the benefits of higher education, why they may want to consider this as an option when they reach 18, and the different educational routes to get there. The visit included a tour of the campus to familiarise themselves with the Oxstalls campus including a tour of their mock-up hospital suite and mock-up Magistrate's Court. The students also got to taste what it was like to sit in a university lecture hall and had fun designing what their dream university would look like; the Gloucestershire University of Cheesemaking was the most imaginative!!
30 students from each of Year 7, Year 8 and Year 9 took part in the 3rd of a set of 3 workshops run by GE Aviation focusing on highlighting the benefit of STEM subjects. Thursday's workshops focused on a "Code-breaking" challenge where students got the opportunity to work in teams to decode a variety of messages. The aim of the session was to learn about the history of code-breaking and how decoding works. Year 8 were a whizz at cracking their code challenge with every group completing it by the end of the session.
We also had 47 Year 10 students from the Health and Social Care and Child Development courses reach new heights, as they travelled to London to visit the Science Museum and the London Eye. The medicine section of the Science Museum was the main focus, with students able to see exhibits showing developments in anatomy, vaccination, brain development and prosthetics. Students then walked through Knightsbridge, along the Mall and past Buckingham Palace (all set up ready for the Jubilee celebrations), before crossing the river to see the City from 443 feet high aboard the London Eye. The staff taking the trip commented on what a wonderful experience it was with an extremely polite and interested group of students.
And finally, students in 10Y/DT1 tested their culinary skills this week by making the Platinum Jubilee pudding. For those of you that aren't aware this is the pudding that won the competition and was chosen to be the Queen's Platinum Jubilee pudding. The students were amazing, making Swiss roll, lemon curd, custard, amaretti biscuits, mandarin coulis and chocolate shards from scratch! The only disappointment for me was that I didn't get to taste what looked like a fabulous dessert!!
On the sporting front, the Severn Vale Cheerleading squad competed at the Gloucestershire Schools' Cheerleading competition. The girls put in a huge amount of hard work over the course of the year and gave up many of their lunchtimes to ensure they were ready to compete. The squad performed brilliantly on the day and came 3rd overall; an excellent achievement. Given we have a very young squad made up of mainly Year 7s and 8s, we know they have a lot of potential to keep improving over the coming years.
This week also saw:
the Year 7 girls have their first rounders fixtures of the year against Gloucester Academy. The girls lost to a very strong Gloucester Academy side but showed great potential in their first ever fixture. The Year 7 girls also headed over to Denmark Road to play in a participation and learning focused fixture, a fantastic event where every student got to take part in a full rounders fixture. There was some excellent play from all of the girls involved, with a marked improvement on their play from the previous evening and again showing tremendous potential.
the Year 8 rounders team play a great match against Gloucester Academy, coming out with an 11 ½ to 10 ½ rounders win. Player of the match went to Macey M.
the Year 10 rounders team edge another close game against Gloucester Academy 13 ½ - 12. Fielder of the match went to Liv Hudman and batter of the match Sophie Evans.
Dylan Bhatti win his 100m heat on Tuesday evening which ensures he will now go through to represent Gloucester at the County Athletics competition on Saturday June 11th at Prince of Wales Stadium in Cheltenham. Good luck Dylan!
As always, I include my weekly reminder about Free School Meals eligibility. If your financial circumstances have changed, your child may be eligible for Free School Meals. If you click on this link you will find guidance on the eligibility criteria and the application process. It's a quick process and we are notified of all FSM entitlements by Gloucestershire County Council each Monday. I would urge you to take a look if you think you may benefit from financial assistance.
I do hope you and your family enjoy the half-term break. We will see the students again on Monday 6th June. It will be a week A.
Kind regards
Richard Johnson
Headteacher