Headteacher's Blog 7-10-22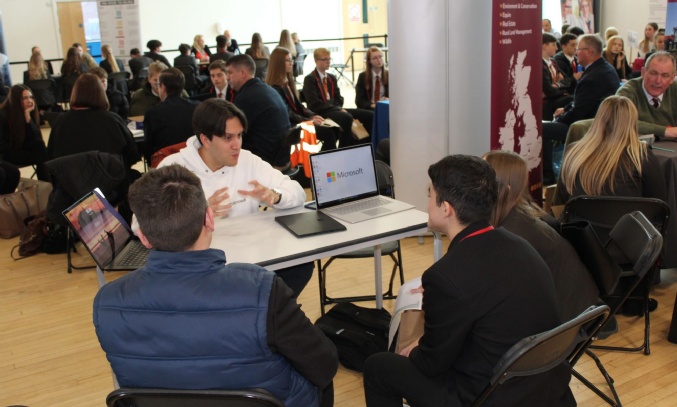 It has been another busy week that has seen Careers Education take centre stage for our KS4 students.
On Monday 3rd October Severn Vale School invited 28 employers / colleges / 6th forms / universities to an Ask the Professional Event careers event at school. The "Ask the Professional" networking event provided students the opportunity to ask employers about what they are looking for in new recruits and what makes an application form / good candidate stand out for them. Year 11s also got to ask colleges, 6th Forms and universities about the courses they offer, and the processes involved in applying to their institutions. It was great to see a number of ex-SVS students representing their companies at the event. Amongst them was Ed Adamson (Ex-Head Boy) who represented Microsoft. Feedback from both exhibitors and students was really positive with one student saying that they came into the hall on Monday with no idea what they wanted to do after SVS and left knowing that they wanted to do a construction course at either SGS or Glos Coll. Other students learnt about apprenticeship opportunities they didn't know existed and A-Levels they hadn't considered studying. A huge thank you to all our Year 11s for being such great ambassadors for SVS during the event.
On Tuesday evening our Independent Careers Adviser, Georgie Blackburn, hosted a Post-16 careers Webinar for Y10 and Y11 parents. Over 45 parents joined Georgie to learn about Post-16 options and how best to support their children to make informed decisions. In a spot quiz we learnt that only one parent was in the job they thought they would be doing at the age of 15. Georgie also covered the difference between the wealth of qualifications available to students at 16 and which local post-16 providers offers which qualifications. Georgie's slides from the Webinar are up on the SVS website's careers section.
This week our Health & Social Care department were lucky enough to welcome back the Great Western Air Ambulance Team demonstrating their 'heart starters' session with our Year 10 Health & Social Care students. The programme aims to create a generation of lifesavers in our region by teaching lifesaving skills and CPR. 60 students worked to complete a series of training activities, delivered by a team of volunteer medical professionals including doctors, nurses, paramedics and call handlers, who were interactive and hands on. All the students got involved and all had the chance to put people in the recovery position and use the resuscitation dummies to perform chest compressions, as well as using a training defibrillator. We as a school are really grateful for the air ambulance volunteers giving up their time to deliver this fantastic session with our students.
This week's sporting fixtures included:
The Year 8 boys Rugby team played Newent School this week. In an end-to-end game with both teams having strong runners and both teams defending well, Severn Vale emerged victorious 6 tries to 4. There were strong performances throughout but the standout players were Victor O, Charlie B and Kieron M.
The Year 9 boys Rugby team also played Newent School. In a strong performance, the boys got better and better as the game went on with some excellent tackling and superb offloading and ran out winners 33-0. There were big games for Deshay Tylor, Elliott Criddle and Luke Roberts. Player of the match was Michael Griffiths with a brace of tries and some huge hits!
The Year 9/10 girls Football team enjoyed a cracking 6-0 win against Churchdown School this week. The game was notable for some lovely passing and link up play plus a few cracking goals. Scorers: Elle Moroney x 4, Grace after x 1 and Kayleigh Taylor x 1. Player of the match was Elle Moroney with other standout performers being Beatriz Silva de Faria, Leilani Ryder and Lauren Lagan.
Congratulations go to:
Henry Driver-Dickerson who won the player of the year for both the Under-14 age group and across all youth age groups at the recent Gloucestershire County Cricket annual awards.
Year 11 students Olly Limbrick, Renato Gomes, Tom Loomes and Alfie Wasley who were all selected to play for Gloucester at the recent Cheltenham Rugby Festival.
And finally on the sporting front, I'd like to wish the best to the students heading on Netball Tour to Belfast. I know they will have a great time and represent the school superbly.
As always, I include my weekly reminder about Free School Meals eligibility. If your financial circumstances have changed, your child may be eligible for Free School Meals. If you click on this link you will find guidance on the eligibility criteria and the application process. It's a quick process and we are notified of all FSM entitlements by Gloucestershire County Council each Monday. I would urge you to take a look if you think you may benefit from financial assistance.
Best wishes for the weekend
Richard Johnson
Headteacher