Heateacher's Blog 18-11-22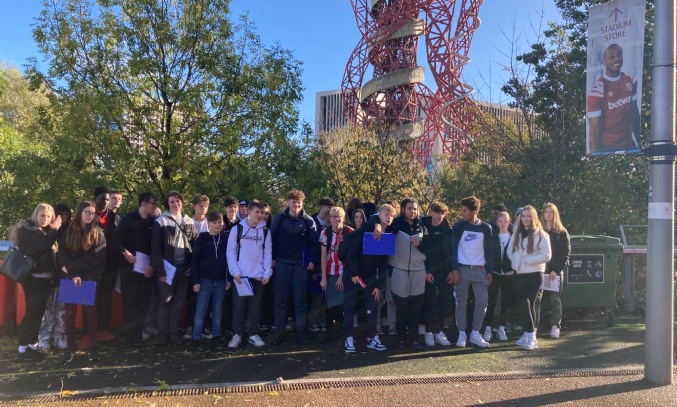 Our Year 11 Geographers travelled to London to investigate urban regeneration at the Olympic Park
It has been another busy but productive week. It saw our Year 11 Geography students travel to London in order to investigate urban inequality. They enjoyed a walk around the Olympic Park, site of some extraordinary sporting achievements and now used as a leisure and recreation space for the community. It was amazing for them to see innovative architecture and a positive use for a formally derelict industrial site. It was clear to see, as students gathered their data, that some areas of Stratford did not benefit from regeneration. The contrast was stark. It was fantastic to see our students putting their geographical skills in to practise. They did a great job.
This week a group of our Year 8 students took part in a Cyber Escape room activity with the brilliant team from the software engineering company Savient. They were introduced to the task through an AI video - in short there is a potential cyber-attack and someone has downloaded the script to the next James Bond film and from the information, evidence and clues presented to the students they had to try and work out from the list of suspects who did it. The tasks involved teamwork, collaboration, problem solving and using skills from English, maths, science, IT and geography, highlighting that there are many different skills and subjects you need to work in a cyber role. Part of the point of the day is to get our Year 8 girls excited about the launch of the national CyberFirst Girls competition next week which they will all take part in during their Computer Science lessons – please wish them luck!
This week also saw the On the Level presentation for all of our students. The aim of the presentation was to give the students a greater understanding of how to manage their own mental health and improve their well-being. Despite some issues that saw students struggle to access some of the interactive elements on their phones, I'm sure all the students are now better informed about this important topic. We have been contacted by the providers of On the Level about offering a potential pilot session for parents. As soon as I have more information I will let you know.
A date for your diary. As, I'm sure you are aware, in light of the announcement of His Majesty's coronation on Saturday 6 May 2023, an additional bank holiday has been announced on Monday 8 May. This means that school will be shut on this day.
On the sporting front we have seen fixtures including:
Our Year 7 girls football team won 1-0 against Gloucester Academy. Teanna Mnotoza was Player of the Match with Faith Smart scoring the only goal

Our Year 8 boys rugby team had their first away fixture at St Peter's this week. In what was an outstanding team performance, Severn Vale came away with a victory 6 tries to 4.

The Year 9 boys rugby team travelled to the Forest of Dean to play a mini tournament against Five Acres and St Peters. This was real test for our boys as we were pitted against two very strong teams. The boys played with a lot of passion and heart but narrowly lost to Five Acres and ran out of steam against St Peters at the end. This experience will no doubt have helped the boys in their continued improvement. Star players included Elliott Criddle, Jacob Brown, Luke Roberts and Man of the match Deshay Tyler.

The Year 9 girls football team won 10-1 against Gloucester Academy. Elle Moroney kept up her remarkable scoring run with 5 goals in a Player of the Match performance.

The Boys U16 District Table-Tennis tournament was held at Crypt school this week. The Severn Vale team consisted of Naty Rychvalsky, Charlie Curran, Fin Williamson & Dylan Bhatti. Competing against the Crypt and Sir Thomas Rich's, the SVS team acquitted themselves well, finishing second to a strong team from the Crypt.

The girls U16 hockey team won 2-0 against St Peters. Jasmine Blench was Player of the Match.
As always, I include my weekly reminder about Free School Meals eligibility. If your financial circumstances have changed, your child may be eligible for Free School Meals. If you click on this link you will find guidance on the eligibility criteria and the application process. It's a quick process and we are notified of all FSM entitlements by Gloucestershire County Council each Monday. I would urge you to take a look if you think you may benefit from financial assistance.
Finally, the World Cup football starts this weekend. On Monday England open their campaign against Iran in a fixture that kicks off at 1.00pm. I have been asked by a small number of students if we will be showing the game at school. In common with most schools, we won't be. The game will be on catch-up services and those who want to watch it can do so after school.
I hope you have a fabulous weekend.
Kind regards
Richard Johnson
Headteacher