Headteacher's Blog 16-12-22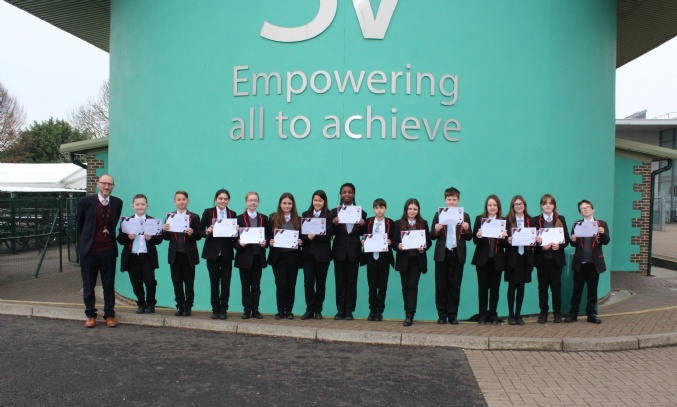 The end of term was an opportunity to celebrate the achievements of some of our KS3 students as well as battle with snow and ice!
It has certainly been a challenging end to the term. When I wrote last week I could see no indication of the snow that would hit on Sunday and the chaos that would ensue. The decision to close the school on Monday was not an easy one but a frozen site and hazardous driving conditions made it the right decision as the welfare of staff and students has to come first. Since then we have been battling with the kind of freezing weather we rarely see in this country. Overwhelmingly the students have been getting it right despite the temptations of the snow and ice!!
One unfortunate consequence of the closure on Monday was that we had to postpone our Winter Showcase. I know that was a real disappointment to the performers and the staff who had supported them. We are working on alternative date in term 3 and will communicate that as soon as it is fixed.
A real highlight for me this week has been to celebrate the fantastic achievements of some of our Key Stage 3 students. I had the pleasure of seeing all the students who achieved the highest scores and those who made the most progress in their recent order assessments. These students deserve huge credit. Their hard work, determination and desire to be their best is clear to see. I applaud them for their efforts and look forward to seeing them go on from strength to strength.
Congratulations also go to Elliot Harper in 7V. His was the winning entry in our recent Ghost Writing Competition. The judges were impressed with his story and its unique writing full of tension and menace. The standard of the entries was very high, and the judges said coming to a final decision was a real challenge. Well done to all who entered but in particular Elliot.
This week we had the pleasure of taking a group of our Young Carers for some festive fun! A trip was organised to Airhop in Bristol on Wednesday night for these students from across the year groups. It was a fabulous event and lots of fun was had by all. If you believe that your child may be a Young Carer please do contact the Young Carers group Coordinator for Severn Vale, Catherine Stevenson via school reception or your child's Head of Year.
On Friday we had the culmination of the Year 7 Big Sing. This saw students from our Year 7 tutor groups perform song they had been practising in prep throughout term 2. It was an appropriately festive end to the term and a delight to hear the singing in the hall. Thank you to the staff who helped and the students for their enthusiasm.
A reminder of an excellent opportunity that is available in the holidays. Have a Go is an inclusive school holiday programme in association with GCC with the aim of providing young people in receipt of free school meals access to music-making activities. Through the 4 day programme, those attending will gain experience learning through multiple music activities such as; Singing, Song-writing, Rapping, DJ'ing, Music Production and playing instruments, whilst having fun and making new friends. It sounds like a fabulous programme. Full details are available here: Have a Go - TheMusicWorks.
Our As always, I include my weekly reminder about Free School Meals eligibility. If your financial circumstances have changed, your child may be eligible for Free School Meals. If you click on this link you will find guidance on the eligibility criteria and the application process. It's a quick process and we are notified of all FSM entitlements by Gloucestershire County Council each Monday. I would urge you to take a look if you think you may benefit from financial assistance.
All that is left for me to do is to wish you and your family and fabulous Christmas and New Year and to thank you for your support throughout the year.
The students will return to school on Tuesday 3 January 2023!! This is a week B.
Kind regards
Richard Johnson
Headteacher