Headteacher's Blog 24-3-23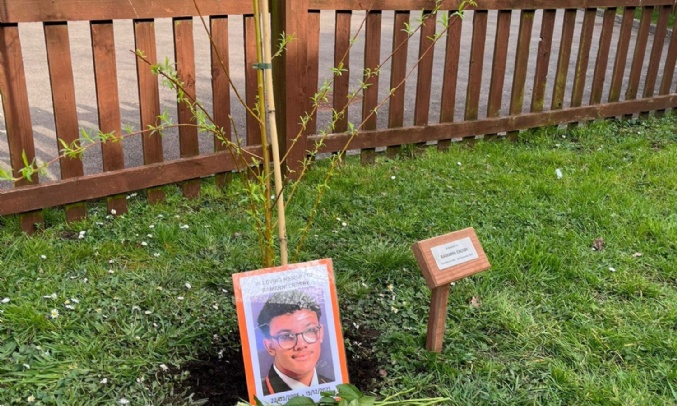 A poignant week as we remembered Ramarni Crosby with his family. on what would have been his 18th birthday
A poignant week this week as we remembered Ramarni Crosby with his family. This Wednesday would have been Ramarni's 18th birthday, and his family came to school to plant a tree in his memory in the school's sanctuary garden. There could not be a more powerful reminder of the reality of knife-crime than seeing a family do this. We will remember him and use his story with our students to bring home this reality. Our thoughts remain with his family.
On Thursday the G15 Celebration of Success took place at the Cathedral. This annual event sees schools from across the city come together and perform in this fabulous setting. It was an evening of great music with performances across a wide range of genres. It was a real pleasure to see the Severn Vale School band play so fantastically. Thanks to the Music department for supporting the students prepare for this big performance.
Thursday also saw the Gloucester schools FameLab Academy final. This is the first year that Severn Vale have taken part in the Science Communication competition which is open to students in Year 9. Pupils must speak for 3 minutes on a science topic of their choice and are judged on the 3 Cs – content, clarity and charisma. Charlie Roberts was the winner of our Severn Vale competition and so represented our school in the grand finale. He was up against finalists from 11 other schools in Gloucestershire.
The audience was huge – teachers and students from all the participating schools, and families of the contestants. Dr Jamie Gallagher, Scientist and Science Communicator was compere for the morning and the competition was judged by Jo Durrant, Adam Hart and Kerissa Khan. The quality of talks from all the school finalists was phenomenal. We were amazed and entertained by them all but especially by Charlie's. He spoke without a hint of nerves or a single stumble over his words and he made the audience laugh. We couldn't have been prouder when he was awarded the runners-up prize!
22 of our students headed off this week on amazing trip to New York. I know they will have a fabulous time and make some lifelong memories. This week also sees our annual rugby tour to South Wales. This year it is our Year 9 team who will be crossing the border for a weekend of rugby. We wish them well in their games.
A busy week on the sporting front with fixtures including:
Year 7 Netball – on Monday the Year 7 netball team took part in the U12 District Netball tournament at Denmark Road. The girls played some fantastic netball making it through to the semi-finals and finishing 4th in the district. Player of the tournament went to Grace C. Well done to all who took part. The Year 7s also played Churchdown School. They continued their winning streak with a 12-0 win. Amelia J was voted player by Churchdown and coaches player went to Bianca A.

Year 7 Football – on Monday we took 32 of our Year 7s over to The Crypt to play in a mass participation tournament. Conditions were awful and the mud ankle deep! The boys played four games against four competitive Crypt sides. It's been a great three months working with the Year 7s and we look forward to seeing them develop football wise next academic year.

Year 8 Netball – the Year 8s played Churchdown in a very even match that they were unlucky to lose 8-4. Player of the match chosen by Churchdown was Ava-Rae L; coach's player was Mia S.

Year 8 Football - on Tuesday our Year 8s went to Gloucester Academy for a friendly fixture. The boys won the game and played some great football with, most importantly, a great spirit. There were lots of goals and some great passing. Thanks to GA for hosting and playing right until the end.

Year 9 Netball - our Year 9s took part in the U14 District Netball tournament at Denmark Road. They played with great spirit but were in an incredibly tough group which included Denmark Road, Ribston and Kings. Maddie Reeves and Sophia Lamb were chosen as joint players of the tournament.

Year 9 Football – the year 9 football team battled extremely hard, as they have all season in the Semi-Final of the District cup. We should have been ahead at half time but luck was sadly not on our side so went in 0-0 at half time. Unfortunately, the game changed in the second half and we quickly went behind. We were chasing the game after this and despite some huge commitment from the boys, lost 4-1. If ever there was a game where the score line doesn't reflect the match, it was this one.

Year 10 Netball - the Year 10 netball team took part in the U16 District Netball Tournament at Denmark Road on Wednesday evening. The girls were in an incredibly tough group with Ribston, 2 Denmark Road teams and Kings. They lost to Kings Year 11 team, won against Ribston, lost to Denmark Road's Year 11 team in a very close match and won against Denmark Road's Year 10 team. This meant they came 3rd in their group. They played some of the best netball I've seen and were unlucky not to get through to the semi-finals. Votes for player of the tournament went to Ava Herbert, Jasmine Blench, Jess Underwood and Eva Moundene with Eva deservedly receiving player for her insane defensive efforts. They should be so proud of themselves; we definitely are!
Also on the sporting front, congratulations to Henry Driver-Dickerson who has been invited to train with the Gloucestershire Seconds Cricket Team next week. This is an amazing opportunity for a Year 10.
A further reminder that a recent analysis showed that approximately 10% of those who are entitled to Free School Meals are not currently taking advantage of this scheme. If you think your child may be eligible for Free School Meals you can click on this link to find guidance on the eligibility criteria and the application process. It's a quick process and we are notified of all FSM entitlements by GCC each Monday. I would urge you to take a look if you think you may benefit from financial assistance.
Finally…if you are picking your children up from school please respect the local residents and do not park in an anti-social fashion. We have received numerous complaints from residents unable to enter / leave their driveways as cars have parked across them. Thank you in advance for your help with this.
The clocks are changing this weekend. Let's hope that this signals some more spring-like weather.
Regards
Richard Johnson
Headteacher