Headteacher's Blog 16-6-23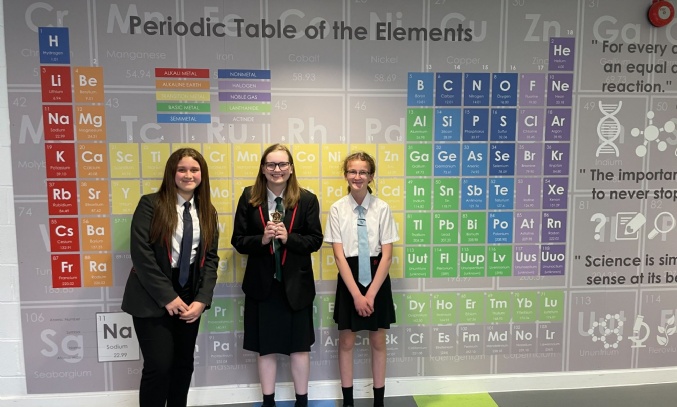 This week saw the first Severn Vale Science Fair where students from across the year groups presented their own scientific research
It has been a hot week and our school, like most, is not set up for such hot weather. Overwhelmingly the students have coped well and have been able to focus on their learning. What certainly helps is keeping hydrated. We have been making clear to the students the importance of coming to school with a bottle they can fill it up using one of the many taps that are positioned around the school. Our expectation is that students fill their bottles before school, at break and at lunchtime. They can also use lesson transition time. Students will not be allowed to leave lessons to fill their drinks. This means the maximum time they would have to go without having the opportunity to fill their bottles would be 55 minutes. We will remind students of these expectations daily. If you have any questions regarding this, please do not hesitate to contact the school.
The highlight of my week was going to the Severn Vale Science Fair on Tuesday after school. This saw students from across the year groups deliver presentations on topics they have been independently researching. The topics covered included 'How do optical illusions work?' 'Black holes: an expose' and 'Can animal life form in a sustainable ecosystem?' What stood out was the knowledge, the confidence and the scientific approach to the topic all of the students chose. The students were a genuine inspiration to all of us – friends, family and staff - who came along. Congratulations go to all who took part with particular mention to the winners: Dalia N, Charlotte R and the overall winner, Phoebe A. Thanks to all who came along and supported the students.
For the vast majority of our Year 11s today was their last exam. It has been a tough 4 weeks with most students sitting over 20 separate exams. I have been proud of their application and attitude throughout. It has not been easy. The very hot weather this week has been additional challenge but one they have met like very other challenge that has come their way. We wish the small number who have exams next week good luck and look forward to their Leaver's Assembly and Prom.
Sporting fixtures this week included:
Year 7 Rounders – the Year 7 girls travelled to Gloucester Academy for their fixture this week. In an excellent game the girls emerged victorious, winning by half a rounder 10.5 - 11. Players of the match went to Lottie and Gracie.

Year 8 Cricket – the Year 8 cricket team travelled to Marling this week. Our boys scored a formidable 244 runs. In reply, Marling could only manage 173. It was an outstanding performance by all but Man of the Match was Oliver W with a 4 wicket maiden!!

Year 8 Rounders - the Year 8 rounders team played in the District Tournament this week. They did amazingly well, beating Gloucester Academy 4.5 - 1.5 (where they actually got the entire team out within 21 balls), beating Ribston B 5.5 - 5 and losing to Denmark Road 2 - 7.5. They narrowly missed out on getting to the final as both SV and DRHS finished on equal points in the group stage, but overall DRHS scored more rounders and went through. The girls were incredibly proud to finish 2nd in their group. Player of the tournament as chosen by the team went to Phoebe H. The Year 8 girls had a separate fixture in which they lost out to Gloucester Academy on the final ball of the fixture! The score was 9.5 - 8.5. Mia S and Julia R were players of the match.

Year 9 Cricket - The year 9 boys went away to Marling on Wednesday afternoon for a cricket fixture. It was a very tight game played in sweltering conditions. The game went down to the last ball with both teams tied. Unfortunately, they got the final run to win the game. Great performances from Mason F and Josh M.

All-Stars cricket – our mixed year all-stars team travelled to The Crypt to play their Year 10 team. The Crypt batted first. A really strong all-round bowling performance limited them to 140 runs from 20 overs. In reply, Henry D-D opened the batting at a ferocious pace, depositing four match balls into the surrounding woodland! Henry had to retire after scoring a quick-fire 50 runs. Severn Vale went onto a comfortable victory, scoring 141 runs in 12 overs.

Congratulations to Zane H who came 5th in the recent National Tumbling Championship. Zane, who is 14, was competing in the Under 17 category which makes his achievement even more impressive.
My regular reminder that a recent analysis showed that approximately 10% of those who are entitled to Free School Meals are not currently taking advantage of this scheme. If you think your child may be eligible for Free School Meals you can click on this link to find guidance on the eligibility criteria and the application process. It's a quick process and we are notified of all FSM entitlements by GCC each Monday. I would urge you to take a look if you think you may benefit from financial assistance.
And finally, I'm sure a lot of you have seen or heard about one of our local families that are struggling with some heart-breaking news. A 12-year-old, sports crazy lad has very sadly been diagnosed with Osteosarcoma. He played football for Quedgeley Wanderers and being a very popular young man many families have wanted to find positive ways to show support. One of the fundraising ideas has been to organise a fun run. This has grown to see all teams unite from both the Quedgeley and Hardwicke to raise money by running either 5k or 10k. I know that many of our students have signed up to take part in this event and show support to a family within our community. If you were able to support this in any way, I know it would be greatly appreciated: https://gofund.me/a349ce53
I hope you enjoy a great weekend.
Regards,
Richard Johnson
Headteacher