Headteacher's Blog 22-09-23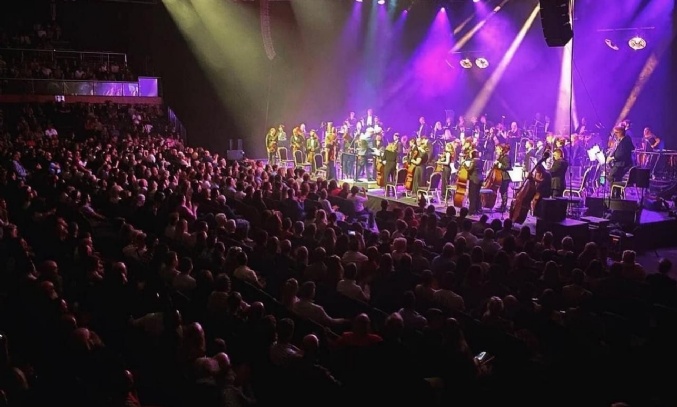 Our GCSE Music students enjoyed a concert featuring the music of Hans Zimmer with our own Mr Khokher performing in the orchestra!
This week has been dominated by our Open Evening which took place on Thursday. It was a pleasure to welcome so many visitors to the school and to show what a great offer we have for Year 6 students looking to choose their secondary school. We had more than 350 students supporting the event; that's over 1 in 4 of our students. They were brilliant and represented the school superbly. The feedback from all the visitors I spoke to mentioned them and how well they spoke about the school. We are now looking forward to welcoming visitors to our two open mornings, the first of which takes place next Tuesday.
Also on Thursday, our Year 8 students watched a drama presentation called Chelsea's Choice. The aim of the presentation was to raise the students' awareness of issues surrounding sexual exploitation. We know that the best protection we can give our students is knowledge of the dangers so that they are aware and can protect themselves, as well as letting them know where they can go for help and support if they are worried. Chelsea's Choice is part of a proactive and preventative programme of work around raising and tackling the complex nature of this issue and is supported by Gloucestershire Safeguarding Children Executive and all Partner Agencies in the county. We hope that this will be a powerful and memorable way to enhance our Futures curriculum and help our young people to stay safe.
Last Friday, the music department had the pleasure of taking 14 of our KS4 students to a concert featuring the unmistakable orchestral film music of Hans Zimmer performed by a professional orchestra in Cheltenham. The orchestra performed a programme including music from Interstellar, Inception, and even Kung-Fu Panda and Pirates of the Caribbean. The performances were accompanied by stunning ambient lighting designs which complimented the music. Our own Mr Khokher was playing trombone in The Studio Orchestra making the evening even more of an occasion. All students were a real credit to the school, demonstrating exemplary behaviour, an excellent attitude and mature conduct throughout the trip. Thanks to the staff for giving up their Friday evening to make this trip possible.
Our KS3 Drama Club launched on Monday and it was an absolute delight to see nearly 50 students participating. We are working hard to extend our extra-curricular offer to students and are developing a wide range of opportunities for the students from Chess to Harry Potter to Warhammer. Full details of the clubs on offer is regularly posted on the school's Twitter feed. We are always looking to extend our offer and a number of clubs have been started by our students. If your son / daughter has a great idea for a club, ask them to see me or Mr Ball and we will see what we can do.
Fixtures for our sports teams are due to start for most year groups in October. Our U16 Girls football team had an early fixture against Wyedean School in the 1st round of the ESFA Cup. An excellent all-round performance saw the girls win 4-0 with Chase and Leilani picking up the joint players of the match.
Some dates for your diaries:
our Year 10/11 Helping Your Child Achieve evenings will take place on Thursday 28th September. The Year 10 session will run from 6.00 – 7.00pm and the Year 11 session from 7.15 – 8.15pm.
our Year 7 Tutor Parent Evening will take place on Thursday 5 October. Full details of how to make an appointment will be sent on Monday.
on Wednesday 27 September it will be School Photos for all students in Year 7 and 10. Full details were circulated today.
As always, I include my weekly reminder about Free School Meals eligibility. If your financial circumstances have changed, your child may be eligible for Free School Meals. If you click on this link you will find guidance on the eligibility criteria and the application process. It's a quick process and we are notified of all FSM entitlements by Gloucestershire County Council each Monday. I would urge you to take a look if you think you may benefit from financial assistance.
Kind regards
Richard Johnson
Headteacher