Headteacher's Blog 10-11-23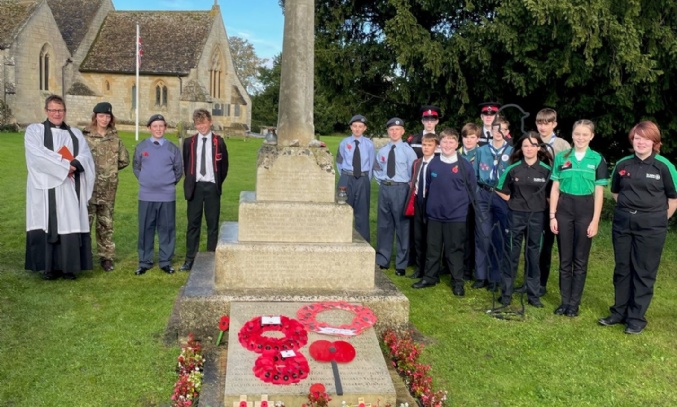 Students from a range of Uniformed Cadets represented the school at the annual Remembrance service at St James' Church
It was a pleasure to welcome the students back after the half-term break.
A range of activities have been taking place. Our Year 11 Geographers visited Birmingham this week to complete their urban inequality fieldwork investigation. The students went to two contrasting locations to conduct environmental quality and perception surveys as well as practising key skills such as sketching maps. The feedback from the staff who accompanied the students was really positive. They were particularly pleased with the way the students demonstrated a mature attitude towards such a challenging topic.
On Thursday, students from a range of the Uniformed Cadets represented the school at the annual Remembrance service at St James' Church. The rest of the school marked Remembrance with a silence at 11.00 on Friday morning, which was impeccably observed.
Today, students from our Year 11 GCSE Food groups had the pleasure of visiting The View restaurant at Gloucestershire College in Cinderford. They were able to enjoy a delicious three-course meal produced by the college students as part of their catering qualifications. This was a fantastic opportunity to gain an insight into food presentation and to experience first-hand a food catering environment.
This week has also seen our Year 7 students begin practising for the Big Sing. This sees the students divided into choirs, each made up of 3 tutor groups. They then learn a song in readiness for a grand performance just before Christmas. It has been a pleasure to see the students singing with such gusto throughout the week. With the able support of our music department, I know they will produce fantastic performances later this term.
A reminder that next week sees all KS3 students taking their Order A Assessments. It also sees Year 11 students complete their first Core Mocks. The students have been preparing for these assessments through homework activities set over the past 4 weeks. I know they will treat them with the respect they deserve.
It has been another busy week on the fixture front including:
Year 7 Rugby – the Year 7 boys played Dene Magna this week. The boys took a little while to warm up after the half-term break, but in the second half they rolled up their sleeves and really lifted their game, scoring three tries to level the game 15 - 15. Special mention goes to TJ, Cameron and Josh for their constant high work rate.

Year 7 Hockey – the Year 7 team played St Peter's on Monday, edging a very tight game 1 - 0. Player of the Match was Izzy C. They followed this up with a game against Denmark Road. The game ended in a narrow 1-0 defeat but there was some super play, determination and focus. Player of the Match was Sofia. The team have made so much progress since their first training session and should be really proud of themselves.

Year 8 Hockey - the Year 8 team played St Peter's this week, losing 3-1 against a very good St Peter's side. Sophie C scored the only goal and was also Player of the Match. Abby J, who played in goal, was fantastic at keeping the St Peter's team from scoring more. The Year 8s had a second game of the week against a very strong team from Denmark Road. The team played with great determination and spirit throughout. Player of the Match was Teanna.

Year 10 Rugby – the Year 10 rugby team also played Dene Magna this week. In a strong performance, the boys played some great rugby to win 22 – 5. Player of the Match was Deshay T.

U14 Rugby - our U14 girls rugby team played 2 matches on Thursday against Crypt and Churchdown. They played with pure grit and determination, coming away with a win against Churchdown (8 tries to 3) and a draw against Crypt. Grace A was our top scorer with 6 tries, Millie S was our player of the match for all round excellent ball carrying and tackling and a special mention to Chloe S for her incredible tackling!

U16 Football - the girls came up against an incredibly strong side from Bristol Free School, a team that made the final 4 in the ESFA cup last year. Our girls played some great football in what was an excellent game but eventually lost 7 - 3. Goal scorers were Lauren L, Grace D and Kayleigh T. Player of the Match was Evelyn H for her fantastic work in defence.
As always, I include my weekly reminder about Free School Meals eligibility. If your financial circumstances have changed, your child may be eligible for Free School Meals. If you click on this link you will find guidance on the eligibility criteria and the application process. It's a quick process and we are notified of all FSM entitlements by Gloucestershire County Council each Monday. I would urge you to take a look if you think you may benefit from financial assistance.
Kind regards,
Richard Johnson
Headteacher