Students come out in force to support Gloucester Foodbank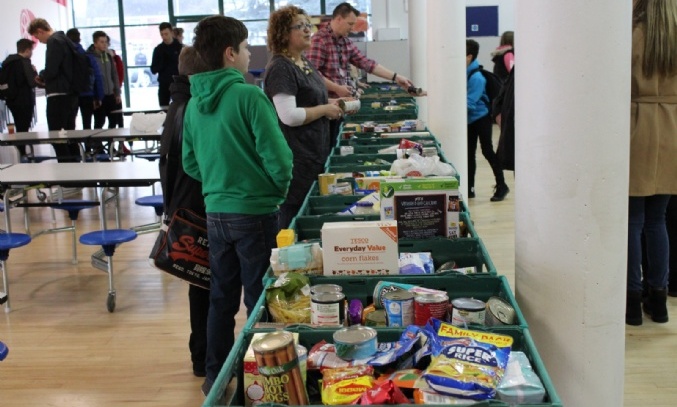 As part of their drive to make an impact beyond the school gates, School Parliament and Citizenship GCSE students collaborated to organise a non-uniform day with a difference. Rather than bring in money, students were asked to bring in an item of food to help support those families in need of that extra bit of support here in Gloucester. As usual they did not disappoint! Many students chose to bring in far more than the one item required and quite quickly it became apparent that every one of the 40 crates would be filled. It was a real joy to see the hall a buzz with students each doing their bit to make a difference. So much so it even moved one or two teachers to tears, seeing just how well our students responded to the call for help.
The Trussell trust estimate that the number of people using food banks has more than tripled since 2012 with over 1,000,000 people now relying upon food parcels.
If you'd like to make a difference and donate, below is a copy of their latest shopping list of preferred items. Simply pick up a few (or get together with friends to pool your donations) and take them to the address at the bottom of this page.
Gloucester Foodbank
George Whitefield Centre
107 Great Western Road
GLOUCESTER
Gloucestershire
GL1 3NF