Success for Severn Vale in the Gloucester Schools Poetry Slam 2016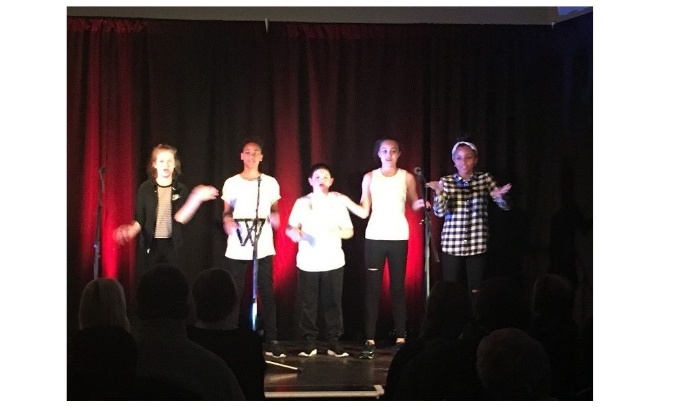 The team in action. Left to right: Abigail Ford, Chiaka Okoro, Idriss Nouria, Neicha Newton and Ashya Bernard.
On Thursday 28th April I took 5 year 8 students – Ashya Bernard, Abigail Ford, Neicha Newton, Idriss Nouira and Chiaka Okoro – to the 'Gloucester Schools Poetry Slam' at the Cheltenham town hall for the opening event of the Cheltenham Poetry Festival. All of the students worked extremely hard in the short lead up to the final to ensure they had learnt their lines and produced a polished and interesting performance. Special mention should go to Ellie Windridge Pippa Butler and Ashley Betty who were unable to attend the poetry final but had parts of the poem that they had written performed by the team. This year's theme was 'voices and equality' the team wrote an excellent poems that highlighted the issues people face in today's societies and the prejudices that can restrict people from achieving their full potential before questioning why we can't just help each other.
On the night, our teams competed against five other teams, from Cleeve School, Pitville and Chipping Camden, in front of an audience of family, friends and people from the poetry world. We were very grateful to be well supported by several of parents and siblings who came along to cheer our team on. The students involved were an absolute joy to work with and a credit to the school, they conducted themselves with maturity and were very gracious and supportive of each other and the other schools, proving themselves excellent ambassadors for Severn Vale.
The competition was judged by several people who are published poets and in a unanimous decision Severn Vale took home the first place trophy. All of the other schools offered up praise and agreed that our team stood out for both their exceptional poem and their engaging and committed performance. I'm delighted with both the result and the attitude and work ethic of everyone involved and I hope the students are all very proud of themselves and what they have achieved. I'm sure everyone who attended would agree it was an entertaining evening that allowed the students to showcase their talents and be justly rewarded. Thank you to Miss James for her support and to the teachers who allowed me to borrow them for an extra rehearsal on the day – clearly it paid off.
We look forward to working with Spoz and defending out trophy again next year!
Miss Hemmings
English Department