Students see Hillary Rodham Clinton speak at the Cheltenham Literature Festival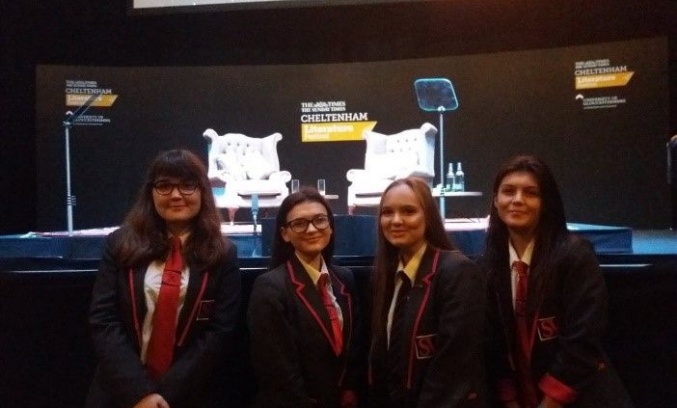 4 Year 11 Sociology students joined Mrs Prescott to see Hillary Rodham Clinton speak at Cheltenham Racecourse as part of the annual Cheltenham Literature Festival
On Sunday 15th October (a very excitable) Deputy Head, Mrs Prescott, took four Year 11 Sociology students – Hollie Hunt, Olivia Anderson, Becky Roberts and Gemma Digby – to hear Hillary Rodham Clinton speak at Cheltenham Racecourse as part of the annual Cheltenham Literature Festival.
The former Presidential Candidate, Secretary of State and First Lady was warm, humorous, passionate and utterly inspirational. She initially spoke in detail about her book "What Happened" which she wrote in the "raw" months after her defeat to Donald Trump in the 2016 Presidential race. With astonishing honesty, Mrs Clinton recounted to the audience her shock at losing to President Trump, in an election she had expected to win until the final few hours, and how the title for her book came from the revolving thought going through her mind in the "devastating" hours after defeat.
She went on to speak not only of her thoughts on defeat including the lies spread by the Russians by the means of their "propaganda machine" Wikileaks and the "wicked" smears which unfolded courtesy of social media, but also of the broader meaning of the election result for the USA and the wider world. In a memorable soundbite when addressing the concept of "fake news", she stated that there is "no such thing as an alternative fact" to widespread applause and cheers going on to say that such an idea is "insidious and subversive to democracy". "We must refuse to be silent and have courage to stand up to it" was her cry to arms.
Host Mariella Frostrup audaciously asked about her feminist credentials and why, therefore, she didn't 'stand up for victims' in the wake of her husband Bill's indiscretions in the late 1990s. Mrs Clinton suggested that those incidents be "left to history" whilst going on to suggest that young women need the confidence and support not to be intimidated by patriarchy especially in light of recent allegations against movie mogul Harvey Weinstein.
Mrs Clinton spoke widely about her concerns for the modern world and the slow global shift from liberal democracy to right wing authoritarianism saying she was "worried" about the world. She also answered several questions from the school based population of the audience on a diverse range of topics from whether there should be tighter gun control in America (yes!) and the influence of religion on politics.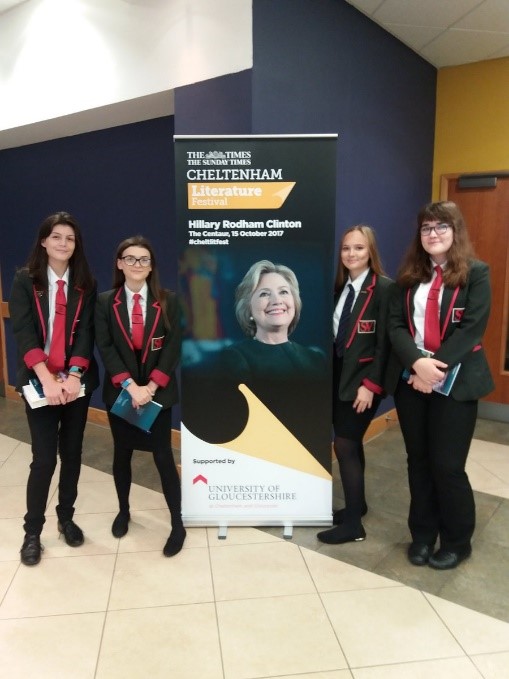 When asked how she foresaw her influence continuing post electoral defeat by the host, Mrs Clinton voiced her passionate advocacy for young women entering politics – "to defeat sexism, we need more women in politics". She expressed her eagerness to see "schools empower girls and boys so that boys get used to hearing girls' voices from a young age" therefore ensuring that girls grow up believing that they can change the world. In the end though, Mrs Clinton conceded that she "would rather be in the White House"!
The event was an unbelievable, once in a lifetime opportunity for our students who grasped it with both hands enduring endless delays and security checks to hear Mrs Clinton speak.
Hollie Hunt was also lucky enough to be randomly selected to go backstage and meet Mrs Clinton and took the opportunity to shake her hand and compliment her on her jacket!