Exams Success Recognised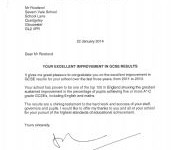 Severn Vale School were delighted to receive a letter from Rt. Hon. David Laws MP, Minister of State for Schools recenty.
In it he praised Severn Vale School for "Proving to be one of the top 100 schools in England showing the greatest sustained improvement in the percentage of pupil achieving five or more A*-C grade GCSEs, including English and maths".
This success is down to the hard work of all the staff, governors and most importantly, the students.
A copy of the letter is below.