SV at the Cheltenham Science Festival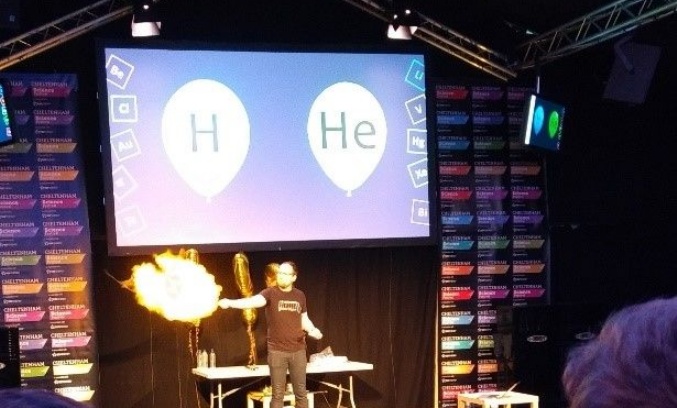 A number of groups of students had the opportunity to visit some of the amazing events taking place at the recent Cheltenham Science Festival
On the 4th and 5th of June, students from Year 7, 8 and 9 visited Cheltenham Science Festival. They took part in interactive workshops and were wowed by exciting shows.
During their first visit, Year 9 learned about the battle between our own cells and viruses which make us poorly and then produced a stunning piece of art work showing this battle. The inspiration for this was the very famous Bayeux Tapestry which depicts the Norman Conquest of England and the Battle of Hastings.
The "tapestry" produced by Year 9 is now hanging proudly in our Science Department.
Year 8 spent their first visit learning more about the Periodic Table in celebration of its 150th birthday. They found out how the Periodic Table was developed and why it is organised as it is. The presenter demonstrated some of the very different properties that elements can have and the show ended with an interactive quiz.
On their second visit, Year 8 took part in a workshop all about light and its use as a communication tool. From fire beacons to fibre optics, students were taken on a journey into how light may be used future. They saw a demonstration of Li-Fi, a potential replacement for Wi-Fi in the future and took part in an activity modelling the work of a photon detector. A final demonstration showed how using light could improve the security of secret communications in the future.
Year 9 then watched a show about the use of catalysts in speeding up chemical reactions and Year 7 enjoyed learning about the brain and important cells called neurones. The students looked at some incredible optical illusions and linked them to the role of nerve cells. Students got up on stage and modelled neurons and the delivery of information over a synapse. They also passed electric currents from one person to another, making the volunteer's arm move involuntarily.
The students were impeccably behaved and an absolute credit to the school and the department!
Mrs Madrick