The Great Western Air Ambulance Charity delivers CPR training to our students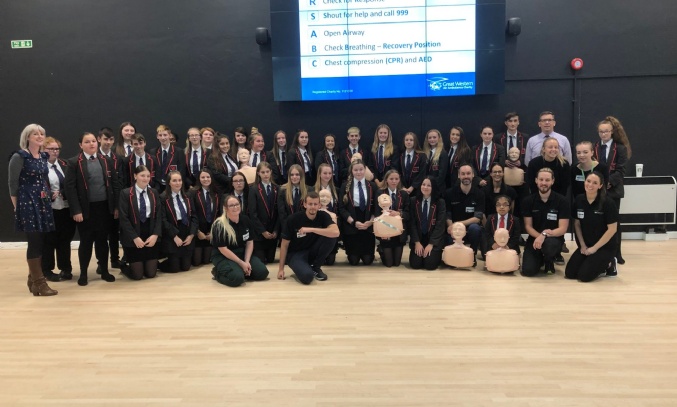 CPR training for our Health and Social Care students with volunteers from the Great Western Air Ambulance Charity on Restart a Heart Day
October 16th is Restart a Heart Day and today our KS4 Health and Social Care students got the opportunity to work with the volunteers from the Great Western Air Ambulance Charity on their Great Western Heart Starters (GWHS) programme.
The GWHS programme aims to create a generation of lifesavers in our region by raising awareness that everyone can learn CPR. As part of the GWHS programme the 34 students worked to complete a series of training activities. The activities were delivered by a team of volunteer medical professionals (doctors, nurses, paramedics and medical/healthcare students) and were interactive and hands on, ensuring the training process was fun and stimulating as well as really informative. All of the students were all involved in putting the visitors in the recovery position and using the resuscitation dummies to perform chest compressions.
The Health and Social Care students are studying First Aid as part of their coursework and enjoyed this fantastic opportunity. This visit builds on the hands on experiences that the students have had, after all becoming 'Dementia Friends' last year when the Dementia Friends charity came in to work with the students and offer practical strategies for people with the condition.
The feedback from all the students involved was really positive and the school is truly grateful to the Great Western Air Ambulance Charity for their support with this great programme.
Mrs Stead
Subject Leader