Interviewing Korean War Veterans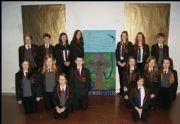 On Wednesday 20th November 2013, pupils from years 8, 9 and 10 met with four Gloucester regiment soldiers who fought in the Korean war.
This was part of a project to commemorate the 60th anniversary of the end of the Korean War. The pupils from year 9 conducted interviews with the four veteran, Tommy Clough, Sam Mercer, Ben Withchurch and Tony Eagles about the Battle of Imjin and their time in the regiment. They told the students about the battle and their view of the War. Lots of their memories were very powerful and gave students a real idea of what being in a war might be like. The interviews will be used as part of the Soldiers of Gloucestershire Museum in the Korea room.
Year 10 Media students filmed the veterans experience at the school and the students feelings about the interviews. While Year 8's took the veterans on a tour of the school and all the work we are doing. We have also produce a piece of work with the help of the Art and History Department, this will be put on display in the cafeteria of the museum. It shows images from the war and the names of the veterans that we were lucky enough to meet.
All the students really enjoyed the experience. We hope to get more students interested in the history of The Gloucester Regiment.
Amiee Brown and Ophelia Embling Y9