SVS Music Department Winter Soiree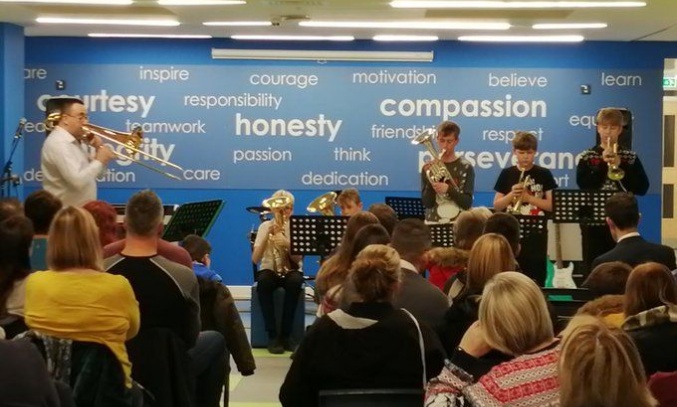 On Tuesday 17th December at 6pm the SVS Music Department held their Winter Soiree in the Science Atrium.
Over 25 Severn Vale pupils from all year groups performed a whole range of music from across a range of genres.
The evening kicked off with the school band launching into "Smooth" by Santana, which, literally, knocked the legs off the drum kit! The evening also saw a whole range of solo and duet vocal performances: songs by Guns and Roses, Elton John, Ellie Goulding and Beach Bunny were sung with confidence alongside renditions of John Legend, Ella Henderson and Jeremy Soule. Thank you to Leona, Myleigh, Rosie, Mariska, Millie, Cerys, Shelley, Olivia, Beth, Jack, Summer, Ella, Holly and Olivia for each of their performances, several of whom also played guitar or piano to support their own renditions. The school choir concluded the first half with a tricky medley of songs from the hit musical, Les Miserables, which they delivered with confidence.
Alongside the vocal performances was some excellent musicianship. Leon Linton-Blake not only performed an outstanding piano performance composed (and improvised on the night) by himself, but also provided piano accompaniment for the school choir. This was impressive. The school brass ensemble have clearly been working hard too as a convincing performance of Henry VIII's "Pastyme in Good Company" was delivered beautifully. Kai's drum solo of "The Hype" by Twenty One Pilots was equally impressive. Calm under pressure too as he barely flinched when he lost, and regained, possession of one his drumsticks amid the animated performance! The guitars of the Rhythm Ensemble consisting of Elliot, Ryan and Josh opened the second half with "Message in a Bottle" and "Man on the Moon" by The Police. Hayden, on piano, joined Kai on drums for "Bitter Sweet Symphony" and "Lane Boy" and Hayden was also supporting Ella on piano later as she sang "Yours". And Marley gave an excellent performance of "Skyrim" by Jeremy Soule – certainly an able pianist in the making.
A whole ensemble of pupils concluded our evening with Christmas songs and a finale of "Shut up and Dance" by Walk on the Moon. Mince pies (not enough!), Schloer and Pink Lemonade aplenty were certainly no match for the musical efforts of the evening. We would like to thank Mr Khoker, Mr Martin, Miss Newport and Sophie, our vocal peripatetic teacher, for all their work in delivering this evening. But the night goes to all the vocalists and musicians who put themselves forward, gave of their time and efforts, and performed magnificently during a Winter Soiree that welcomes in the festive season beautifully. A huge thank you to all.