Exam Results Day 2020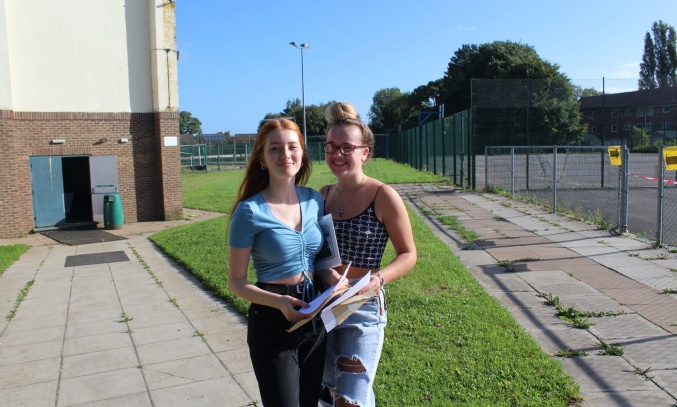 In what has been the most unusual of academic years, it was a delight to welcome our Year 11 students back into school to collect their GCSE results today.
It was a day with much to celebrate as the class of 2020 delivered a fabulous set of GCSE results. There have been many standout performances by our students including:
Kate Davis: 7 grades 9s and 2 grade 8s

Libby Street: 6 grades 9s and 3 grade 8s

Freya Townley: 6 grades 9s and 2 grade 8s and 1 grade 7

Scarlett Williams: 5 grades 9s and 3 grade 8s and 1 grade 7

Issy Vinton: 3 grades 9s and 6 grade 8s
The superb results achieved by the class of 2020 are a testament to the hard work and commitment of the students and to the outstanding work of the Severn Vale staff who have inspired, supported, and cared for this special year group. My thanks as ever goes to our teaching and support staff for their incredible work. I would also like to thank our students' parents for the fabulous support they have provided by our students throughout the last 5 years. It is important also to acknowledge the great foundations provided to our students by their primary school teachers.
It has been a pleasure and a privilege to work with the class of 2020; a finer group of young people it would be hard to find. Throughout their time at Severn Vale School they have impressed all with their dedication, determination, perseverance, and good humour. Although they have been denied their true chance to shine in this summer's exams, we know the class of 2020 will go on to great things in their future endeavours. We wish them all the very best and look forward to hearing of their successes as they move on to the next stage of their lives.
The grades students received today were based upon the centre assessed grades submitted by the school in May. I am indebted to the teaching staff at Severn Vale who completed this challenging task with great professionalism, ensuring that the grades submitted were an accurate and fair reflection of what the students were most likely to achieve if they taken their exams.
Our focus as a school now turns to ensuring that next year's results are even better!
Richard Johnson
Headteacher