Andy Lewis MBE visits Severn Vale School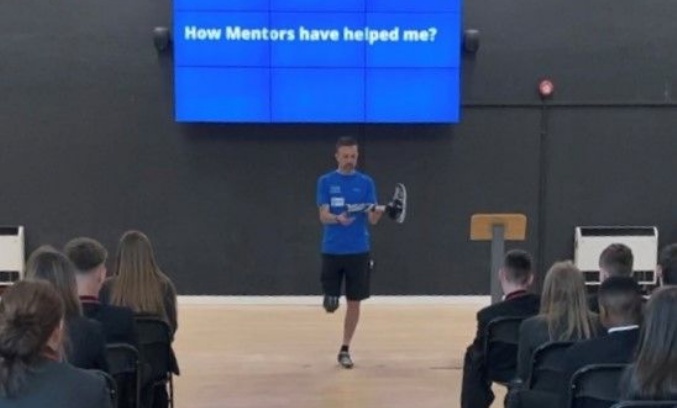 This term, Yr10 were privileged to have Paralympic Gold medallist, Andy Lewis visit to share his wisdom and insight on navigating life's challenges, in whatever form they may take.
Andy has used his life experiences and adversities to create a powerful message that he delivers with brutal honesty.
As a youngster, Andy competed for Gloucestershire as a cross-country runner and was looking forward to a career in the army but at the age of 16 he was involved in a motorcycle accident, which eventually resulted in a through the knee amputation in his right leg when he was 22.
Having had ADHD, Dyslexia & heightened Anxiety for most of his life – things reached breaking point in 2007 when everything came to a head and he tried to take his own life.
Andy says "In Life, in Business – we all want to succeed – we try to be what people or situations want to see in us and never really opening up through fear of being rejected, we are conditioned to not share our Mental Health issues, Anxiety or hidden Disabilities and this is just not right."
Fast forward to today – Andy Lewis MBE is not just an inspirational Speaker on the subjects of Mental Health & Wellbeing but also a multiple European, World and Paralympic GOLD medallist.
Key takeaways from his message:
Having goals gives you something to aim for. They're the 'why' to your 'what'.
Mindset matters. It's not about being the best, just giving your best.
Who you surround yourself with will either lift you up or hold you back.
Failure is part of the journey. See it as a sign of a successful direction. If you're not failing, you're probably not growing.
His story, and the message he has crafted to share it, give us all a chance to see the unbounded power of our minds to transform our situation and step into a future we define for ourselves.