Peter Rowland - for Severn Vale, Gloucester and Britain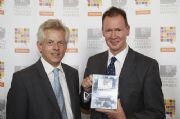 Severn Vale School were delighted to receive this morning a wonderful article written by Richard Graham, MP for Gloucester.
One of my strong beliefs in life is that individuals make a huge difference. I've never fallen for that line 'they're all the same', and retirement is a good moment to recognise someone's achievements and their impact on others. The late art historian Bernard Berenson's division of people into life enhancers and life diminishers come into it too.

Peter Rowland, outgoing Head of Severn Vale Academy in Quedgeley, is a huge achiever in a quiet way. He's also and a life enhancer because he's always looking for the positive, always looking to do things better and never complains.

Here are the headline achievements:
During his twelve years as Head, the % of Severn Vale pupils getting 5 good GCSEs has gone from 11% to 89% - with the class of 2013 achieving the best academic results in the school's history
The school's last Ofsted report (Jan 2011) described the school as a 'good school moving rapidly towards outstanding' and this year, Severn Vale has been recognised as one of the top 100 most improved secondary schools in the country
The school has close links now with 9 local primary schools and created the Schools Olympics in 2012 with Gloucestershire University: an event for 850 primary school pupils led by 70 junior sports leaders from Severn Vale
The partnership with Quedgeley Community Trust and Prospect Training to establish Q, and allowing the Quedgeley Health and Fitness Club to use the school's sports and leisure facilities are two examples of many of working with the wide Quedgeley community
It was typical of Peter that he had no hesitation in hosting the first (and very successful, aerospace themed) Jobs Fair I organised at a secondary school in Gloucester, with the pupils playing a key role in the event, and I was proud to open, with the school, their new Design & Technology Centre.

His colleagues have got it right, writing that "Peter has transformed Severn Vale School. The school has gone from one which was failing its students and had a less than desirable reputation in the local community to one which is a thriving hub of learning in Gloucester City".

He has literally made a huge difference for the opportunities that ex Severn Vale pupils can expect in life now. So I was delighted to be with Peter and Chair of Governors Tanya Ciriaco last month when he was awarded a Silver Teaching Award in Parliament in the Lifetime Achievement category.

There is one other way in which we've been working together, which will last beyond Peter's retirement. In 2013 he approached me with an idea to raise £1 million for the Royal British Legion between 2014-18 as a legacy of the First World War. The money would be raised by pupils and students to support projects like adventure breaks for service children and recovery centres to help sick or injured service personnel. I arranged a meeting with Defence Minister Andrew Murrison and we got his support for what I hope will become an inspirational and national cause - and I hope be Peter's next legacy.

The Fund was launched, quietly, at Armed Forces Day in Gloucester on the 21st June. With Peter was Nathan from Churchdown School, who has already started a series of fund raising initiatives at school. Over the next four years, as word about the Fund spreads - as it will once Peter has more time for it - I've no doubt that we will be surprised what young people can and will do, voluntarily. You can find out more about this national project and how to get involved here.

Meanwhile, on the eve of his retirement, and as you set off on a new journey of consultancy for schools and hitting that charitable target of a million pounds by 2018, this is my thank you to Peter Rowland for all he has achieved for Severn Vale, Quedgeley and Gloucester. If anyone doesn't believe you can take a struggling school and, with great leadership, reach the heights of achievement, just look at Severn Vale. Every school can be there.

If you would like to receive the occasional e-news from Richard Graham, please drop him an email at: richard4gloucester@gmail.com