Belfast Netball Tour - October 2022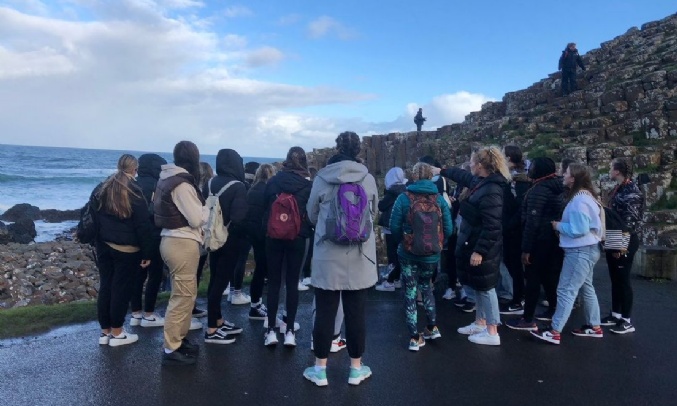 Another fantastic opportunity, 31 students participating in the netball tour to Ireland.
t was an early start on Thursday morning for the 31 students and 4 staff heading off to Birmingham airport for our journey to Belfast. With no one managing to over pack the allowed 15kg baggage (Miss O'Neill was rather close), we were up in the air with no issues. We arrived at Belfast International Airport to play my old school in two netball fixtures.
Captain of the Y9/10 team was handed to Savannah Link and captain for the Y10/11 team to Chanelle Wood. Players of the match were Ibhalukho Inyinbor and Eva Moundene. Both matches ended up in losses, but the girls had a fantastic experience and looked fabulous in their new netball dresses.
On Friday we were up early to play our second set of fixtures against Our Lady and St Patrick's school. The Year 9 team was captained by Macey Mustoe, they were up against an incredibly strong team and didn't manage to get the win but worked hard for every goal they got. Macey Mustoe and Emily Limbrick were joint players of the match. The Year 10 team was captained by Eva Moundene. This was an utterly fantastic game of netball which our girls lost by a single goal. Player of the match went to Eva Moundene but special mentions should also go to Ava Herbert, Jess Underwood and Jasmine Blench. The Year 11 team was captained by Liv Hudman, this was another challenging game for our girls, and they lost to the Northern Irish school girls. Player of the match went to Liv Hudman.
Saturday morning was a much earlier wake up time to allow us to get up to the Giant's Causeway. We were spoiled by the weather and also managed to be the first group of the day to visit the Causeway, we spent an hour exploring and getting some fantastic pictures. The girls genuinely seemed interested in the history/geography of the area which was fab to see. After a great lunch we then headed back to Belfast for some retail therapy, students and staff alike; Mrs Haines having to use our extra kit bag suitcase for her purchases. "Organised fun" was the plan for after dinner, with some quizzing and prize giving for the girls' efforts over the weekend. Lots of laughs had here and Ella Meecham, Izzy Reynolds and Tori Parker were the eventual winners of our very last-minute quiz.
Sunday morning was check out time, followed by some time spent at St George's market before we headed up to Belfast International for our flight home. All parents were on time for pick-up which rounded off a truly fabulous trip. Our students were a credit to the school and I hope they had a great time.