Year 9 trip to Ypres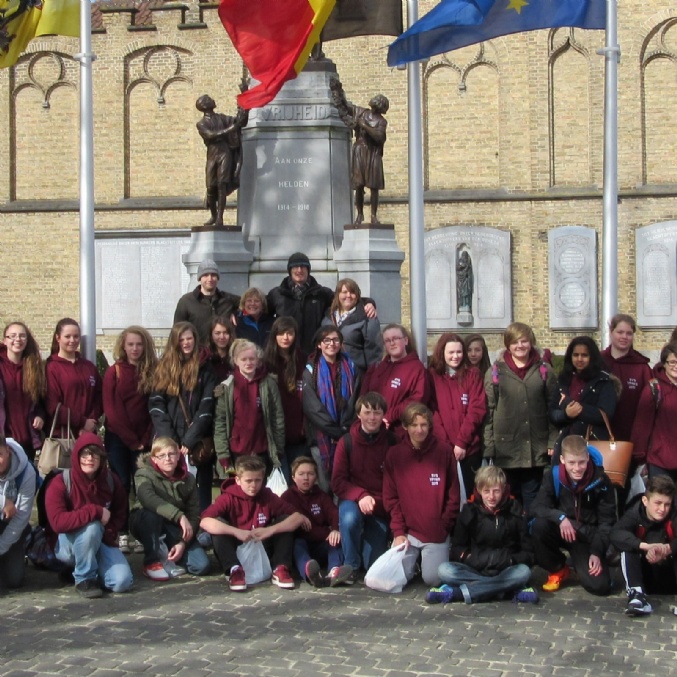 Year 9 students learned more about the horrors of WW1 during a visit to Ypres
Easter saw a group of Year 9 students travel to Ypres to visit some of the battlefields of World War One. The trip to Ypres was designed to allow students the opportunity to see first-hand what they had been learning about in class. The visit had even greater resonance given we are currently celebrating the 100 year commemoration of World War One.
The trip focussed on Ypres due to its significance for the British Army in World War One. British and Empire forces fought continuously to save the town from the Germans for almost four years, which included the terrible Battle of Passchendaele. The battles around the town of Ypres caused half a million British and Empire casualties, and witnessed the first use of poison gas as a weapon of war.
Students had the opportunity to visit museums, trench systems, war memorials, and most poignantly war cemeteries. Students visited both British and Empire cemeteries, French and Empire, and also German cemeteries, which gave them the chance to see that the Great War was truly global in its reach.
Three of our students had the opportunity to lay a wreath at the last post ceremony at the Menin Gate in Ypres, on behalf of the whole of Severn Vale School. The Menin Gate has 54,000 British and Empire names inscribed upon it, honouring those soldiers whose bodies were never recovered. The ceremony has been conducted every day, at 20:00, since 1927, and is a moving reminder to all of the sacrifice of all soldiers of the Great War.
All students conducted themselves superbly in some very moving environments. They were a pleasure to take and a credit to Severn Vale School.