Exam Results — 2014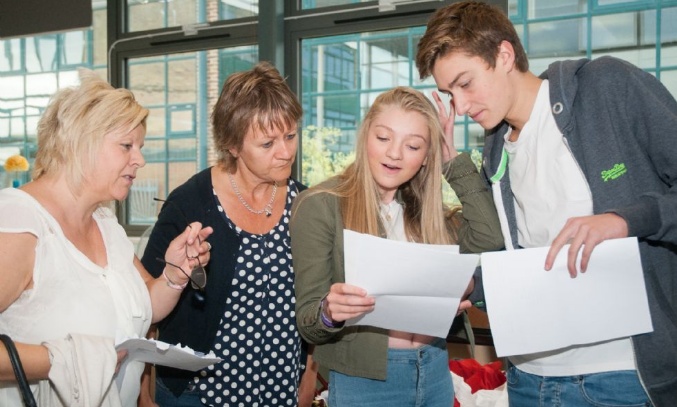 At Severn Vale we do still make use of targeted early entry to enable our students to achieve in key critical examinations.
Severn Vale was recently recognised by the DfE as one of the top 100 schools nationally for sustained improvements in exam results, and, despite the predicted volatility nationally, has seen results in 2014 virtually match those of 2013 with 66% of students achieving 5+ A*-C including English and Maths.
2014 saw significant changes to the examination system in England. These changes make it very difficult to make year-on-year comparisons. Indeed, the DfE has said that "The changes that have been implemented in 2013/14 have had an impact across all types of schools, and it means that it is not possible to make direct comparisons between 2013/14 results and earlier years."
One of the biggest changes is the introduction of the "First Entry Rule". This means that in certain performance tables only the first attempt at a qualification will be included. Schools are still able to use more than one attempt for students and . As can be seen in the table below, our results compare favourably with those achieved nationally. The impact of our use of early entry on the achievement of our students can be seen when comparing the school's performance with that seen nationally. On all measures bar the eBacc, Severn Vale performed above the national level, significantly so on most measures.
Given the turbulence seen nationally and the large fall in the proportion of students achieving the key 5+A* - C EM indicator, down from 59% to 56%, we are extremely proud of the levels of attainment seen at Severn Vale.
Indicator

First Entry

Best Entry

School

National

School

National

5+A* — C (inc English and Maths)

57%

56%

66%

60%

A* — C in English and Maths

61%

59%

73%

unavailable

A* — C English

83%

72%

86%

unavailable

Expected Progress English

81%

72%

83%

74%

A* — C Maths

63%

68%

75%

unavailable

Expected Progress Maths

60%

66%

71%

69%

eBacc

12%

23%

12%

23%
There were some outstanding results by the school's highest attaining students:
Antonio Ferrar-Harding achieved 8A* and 2A grades
Alicia Barton achieved 7A*, 3A and 1C grade
Emma Butler achieved 5A* and 7A grades including an A* with Distinction in Further Maths
Sian Harries achieved 4A* and 8A grades
Holly Wilson achieved 2A*, 8A and 1 B grade
Information on the school's performance can be found on: