Exam Results 2023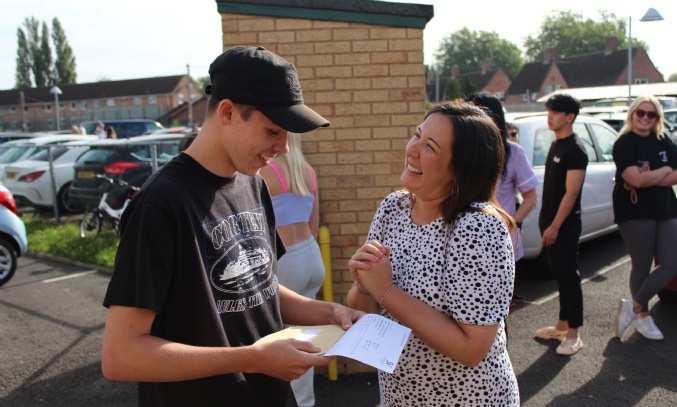 The class of 2023 have delivered excellent results despite the challenges they have faced
Students, staff and parents are celebrating once again as the class of 2023 at Severn Vale have delivered an excellent set of GCSE results.
This cohort faced the challenge of disruption from the pandemic but with far fewer mitigations than previous cohorts. The students have risen to that challenge and have delivered results that compare favourably with levels seen nationally with:
46% of students achieving a grade 5 or above in English in Maths (up from 44% in 2019)
70% of students achieving a grade 4 or above in English and Maths (up from 68% in 2019)
These represent some of the best results the school has ever achieved.
There have been some amazing individual performances with students achieving a collection of grade 9 and grade 8s. This included:
Josh Whiterod – 5 x 9s; 3 x 8 and 1 x 7

Erin Sage – 3 x 9s; 5 x 8s and 1 x 6

Evie Windridge – 3 x 9s; 3 x 8s and 3 x 7s

Chanelle Wood – 4 x 9s; 1 x 8 and 4 x 7s

David Erih – 2 x 9s; 4 x 8s and 3 x 7s
We also saw some fantastic performances from students who faced incredible challenges including students from Ukraine and Afghanistan who joined the school and achieved amazing results in a remarkably short amount of time.
Results day is always one of the best days in the school year when we get to celebrate the amazing achievements of our students. This year group have had to deal with a huge range of challenges. Their superb results are a testament to their hard work and dedication combined with the fabulous teaching and support they have received from the unbelievably talented staff we have at Severn Vale. The class of 2023 been a wonderful year group to work with throughout the last 5 years and it is brilliant to see that they have received the results their efforts merit.
The class of 2023 will now move on to a variety of Sixth Forms, Colleges and Apprenticeships. Given the great foundation they have achieved at Severn Vale we know they will go on to make their mark in the world. We wish them the very best.
Our focus as a school now turns to ensuring that next year's results are even better!
Richard Johnson
Headteacher