Headteacher's Blog 3-12-21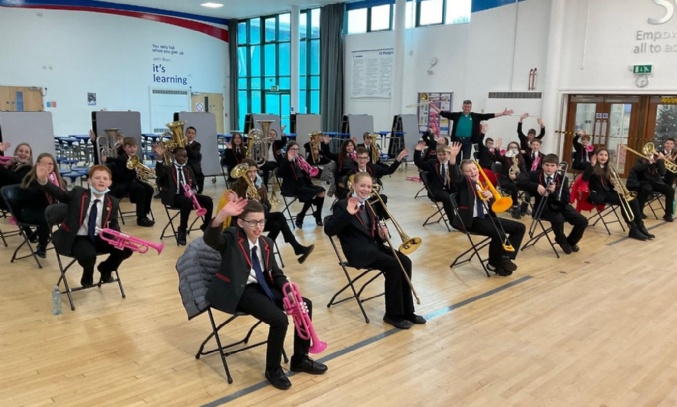 Despite the challenges that Covid is presenting, the many opportunities for the students continue with a day with Brass England being one of many highlights this week
The Covid situation has certainly taken a turn for the worse over the past week. Case numbers in school have increased significantly with over 80 confirmed positive cases spread across all year groups as I type this piece. We are also experiencing ongoing issues with staff absence caused by positive cases.
We know this is a picture repeated across the county and the wider south-west, something that was confirmed in a letter and guidance I received from the joint South West Directors of Public Health. They have also drawn up additional guidance for when local rates are high, and schools are experiencing challenges from widespread transmission, or where there is a clear risk of widespread transmission. All of these are currently in place in school.
We all want to ensure that disruption is kept to a minimum. We know that this can be best ensured by:
Maximising take-up of the Covid vaccination programme. Please remember that if your child missed the original vaccination slot there are still opportunities for catch-ups. This includes Year 7 students who have now turned 12 years of age. Catch-ups are taking place at drop-in clinics at several GP-led Primary Care Network vaccination sites. A full list of dates are here and will be added to as more clinics are scheduled
Maximising participation in the LFD testing programme. The overwhelming number of cases we are dealing with have been first picked up via LFD tests. If your child is not currently participating in this programme they can access kits from school. Please email lfdtesting@severnvaleschool.com
Thank you in advance for your support in what are undoubtedly very challenging times.
Thankfully it is not all Covid and as far as possible school life is continuing as normally as possible. For our Year 11 students it has been week 1 of their first assessment window. The current Year 11 did not have a formal assessment window at the end of Year 10 as we were experiencing so much disruption with Covid at the time. They also missed their end of Year 9 exams due to lockdown 1. This means this assessment window is the first complete exam experience they had completed since early in Year 9. I have to say that the students have demonstrated great resilience and impeccable behaviour throughout this demanding period. From an academic point of view these assessments will provide the students with very useful feedback on where they are in terms of their learning with just over 6 months to go until the summer GCSEs. These assessments continue next week.
Monday morning saw the hall set up with trumpets, trombones, tubas, baritones and tenor horns ready for the 32 Year 7 students who participated in a Brass Day organised with Brass Band England. The students progressed through the initial challenges of producing a sound on a mouthpiece to learning and performing four pieces in a concert at the end of the day attended by an appreciative audience of parents and relatives. The students were a credit to themselves and quickly responded to the musical and technical challenges of playing a brass instrument from scratch in a large ensemble. The project will be extended to Year 8 pupils in the New Year with the goal being to set up a Learner Brass Band in Quedgeley. Please contact Mr. Khokher if you have any questions about this project or your child learning a brass instrument.
On the sporting front 8 of our Year 10 students took part in a table tennis tournament played at Chosen Hill school. Competing against students from Chosen Hill, Dene Magna and the Crypt, the boys acquitted themselves well. The tournament was played in an excellent spirit by all. The games were competitive and close with a mixture of victories and defeats for the Severn Vale team. Thanks go to Chosen Hill for hosting the tournament.
This week also saw our students making their contribution to the annual Salvation Army Christmas gift drive. It was so reaffirming to see the many small gifts brought in by the students and knowing how much pleasure these will bring the recipients. We talked to the students in line-up this week about how small acts can make a big difference and the importance of compassion; I can think of no better example than this. The Salvation Army will be collecting the gifts next week. Thank you all for your support with this wonderful project.
As always, I include my weekly reminder about Free School Meals eligibility. If your financial circumstances have changed, your child may be eligible for Free School Meals. If you click on this link you will find guidance on the eligibility criteria and the application process. It's a quick process and we are notified of all FSM entitlements by Gloucestershire County Council each Monday. I would urge you to take a look if you think you may benefit from financial assistance.
Have a great weekend.
Kind regards
Richard Johnson
Headteacher