Headteacher's Blog 11-2-22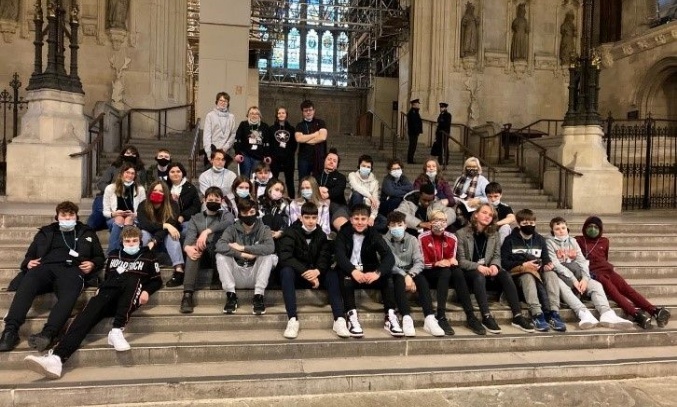 A trip to the Houses of Parliament was amongst the highlights at school this week
Another week on the Covid rollercoaster. After a relatively quiet period in terms of positive cases we saw quite an increase this week. Fortunately we are still running at a level well below many other schools locally who have had to put in place rolling home-learning arrangements for particular year groups. It is no surprise to see an increase in cases given that Gloucestershire is currently the 13th highest area in the country in relation to current Covid cases on latest figures, with the main age groups being impacted 5 - 9 and 10 – 14 year olds.
Despite the ongoing Covid situation it has been another busy week at school. Year 11s have been completing their second week of assessments. They and their teachers have also been digesting the news released by the exam boards on Monday regarding advance information about the summer's exams. We will be communicating information to parents regarding this over the coming weeks. Our KS3 students received information about their forthcoming Order B assessments with clear revision and practice guidance set for homeworks over the coming week.
In terms of homework a reminder that the school's facilities are open before school for "getting ready" and after school for "get it done". These are fantastic opportunities for the students to ensure homework is managed effectively and always completed and handed in on time.
This week students from Year 10 headed down to London to visit Westminster and have a tour of both the House of Commons and the House of Lords. After our tour of Parliament, the students took part in a workshop run by the parliament education service, where they explored the making of laws in this country. The day finished with a Q&A session with our local MP Richard Graham where he impressed upon them the importance of diplomacy, both in global conflicts and domestic affairs. As always, the students were a credit to the school, with their tour guides commenting on how extremely knowledgeable and informed they were. Something that comes as no surprise to us!
It has been another bumper week of fixtures this week including football fixtures for the following teams:
Year 9 boys - who got their Gloucester Schools District League campaign off to a great start with a fine 5 – 1 victory over Holmleigh Park with 4 goals from man of the match Zak Jones.
Year 10 boys - got their campaign underway with a fixture against Gloucester Academy. A dominant performance from the boys saw them win 17-0 with Charlie Curran delivering a 6 goal Man of the Match performance.
Year 11 boys - also had their first Gloucester Schools District League fixture of the season against Holmleigh Park. In a game dominated by Severn Vale and played in great spirit, two second half goals from Oli Browett led to a fine 3-1 victory. Man of the Match was James Reynold. In their second Gloucester Schools fixture against The Crypt a clear penalty was not given in the last minute which denied the boys the chance to win. Overall a 2-2 draw was probably a fair result with Keon Saniola Man of the Match.
U16 girls – lost 7-2 against a very strong Crypt team. The score didn't reflect the quality of our performance. Player of the match was Zunairah Cross.
There were further Netball fixtures including:
Year 9 - played Gloucester Academy on Thursday. The A team won 21-3 (player was Eva Moundane) and the B team won 9-3 (player was Molly Wheeler)
Year 10 – both A and B netball teams won at Gloucester Academy. The As won 15-6 and the Bs won 6-5 in two brilliant games. Chanelle Wood and Maisie Swankie got player of the match.
In addition we have had bumper numbers at training with over 50 girls at Year 7/8 netball training which is an absolute delight to see.
I wanted to draw your attention to a new club playing the popular tabletop game Warhammer 40,000 that has been set up by some students ably supported by Mr Ball. They are currently looking for more players. They can offer gameplay, advice and entertainment. Interested students do not require any knowledge or experience of the game. If you think your son or daughter might be interested, the club meet in DT5 between 3.15 – 4.30 on Tuesdays.
Heads up also about the upcoming annual SVS Food Drive in support of the Gloucester Foodbank. Next Friday, 18th Feb, we are asking all students who are able, to bring in an item to donate to our local foodbank. Every year the response is overwhelming, with many students going above and beyond. As always, if you aren't in a position to help right now, please don't worry. Donations will be dropped in the hall as students arrive and if your child doesn't take part, no one will notice. But if you can contribute, your donation would be greatly appreciated.
As always, I include my weekly reminder about Free School Meals eligibility. If your financial circumstances have changed, your child may be eligible for Free School Meals. If you click on this link you will find guidance on the eligibility criteria and the application process. It's a quick process and we are notified of all FSM entitlements by Gloucestershire County Council each Monday. I would urge you to take a look if you think you may benefit from financial assistance.
I do hope you have a great weekend.
Kind regards
Richard Johnson
Headteacher