Headteacher's Blog 6-5-22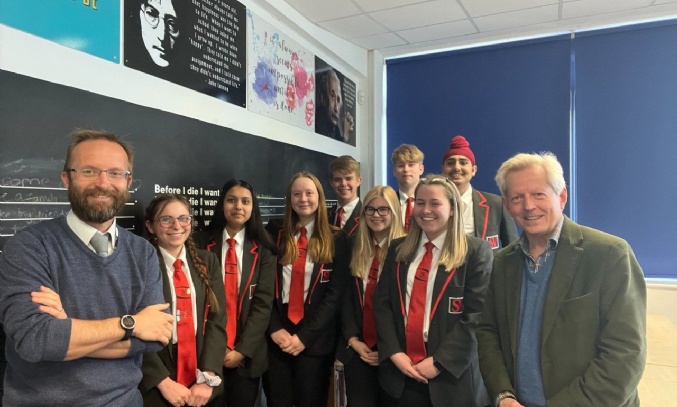 It's been a week for student leaders past and present as fundraising activities for Cancer Research UK took place
Student Leaders are a core part of what we do here at Severn Vale. Each year a rigorous interview process takes place and 10 successful applicants from Year 11 go on to become the voice of the students. This year's group have been an absolute pleasure to work with. They have risen to each and every challenge and have benefitted enormously from the leadership programme they have worked on with Mr Hockaday. One of the highlights of this programme are the interviews they get to undertake with people from a range of professions. Their final interview for the year was with Gloucester MP Richard Graham, who spoke candidly about the challenges of leading in the public eye and the importance of caring about those you lead, seeing the life behind the public face and echoing one of our own school 'Lines for Life': Everybody's Somebody.
As this was their final session on the programme, Richard also presented each of the Student Leaders with their certificate upon successfully completing the course. So, congratulations and thanks go to:
Molly-May Newman
Gurninder Kaur
Adele Smith
Milly Maycock
Liv Otterwell
Robbie Farr
Luke Wallis
Laksh Virk
Esther Millward
Emily Wadley
On that note it was great to see ex-Severn Vale student leader Ed Adamson in school this week. He is now on the Microsoft graduate scheme having completed a Business Degree at Birmingham University. Ed was in school looking at how he could develop links with the school and to promote the kinds of opportunities that Microsoft offer to our students. Ed's philosophy was always "why not me" when it came to great opportunities. This is something he is keen to share with our students. I look forward to seeing how this link can evolve and the benefits it can bring our students.
Last term we held a vote in prep time to decide on a school charity for us to raise some money for. The overwhelming winner chosen by the students was Cancer Research UK. This week there have been a series of events to raise money for this charity. These have been organised by the student leaders, alongside each year group's year council members. These have included a bake sale organised by the Year 7 students; a beat the goalie event with some guest appearances in goal by various staff; a crossbar challenge organised by the Year 10/11 students and finally an odd sock day organised by the Year 8 students. It has been a pleasure to watch the students work on making these events a success and demonstrating their compassion for others through their actions.
This weekend sees the practice expedition for the 2021-22 Bronze and Silver Duke of Edinburgh cohorts. Sixty students will be navigating around the Vale of Berkeley, cooking on Trangias and staying overnight in a tent. In total the Bronze cohort should walk about 28km over two days with the Silver cohort doing 40km over three days. The weather forecast is good and I wish the students and the staff supporting them the best of luck for what should be a great weekend.
As always, I include my weekly reminder about Free School Meals eligibility. If your financial circumstances have changed, your child may be eligible for Free School Meals. If you click on this link you will find guidance on the eligibility criteria and the application process. It's a quick process and we are notified of all FSM entitlements by Gloucestershire County Council each Monday. I would urge you to take a look if you think you may benefit from financial assistance.
Kind regards
Richard Johnson
Headteacher