Headteacher's Blog 8-7-22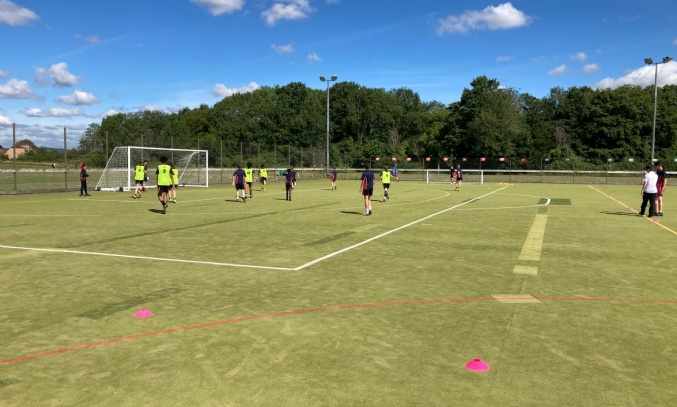 Our first Sports Day for 3 years took place in glorious weather!
For the first time in 3 years, we were able to stage our Sports Day this week. It was an absolute pleasure to see so many of our students taking part in a wide variety of activities and having fun. As well as traditional athletics, students had the opportunity to take part in football and netball competitions, Zumba as well as to experience some martial arts and boxercise. The sun shone and the feedback from the students was that a fabulous day was had by all.
This week saw over 200 of our Year 10s out on Work Experience. Work experience at its best can produce life changing results and this has been shown to be the case with Tayla Hill who went to Cazoo and has been invited to apply for an apprenticeship. Shane Smart, who wants to be a chef, got stuck into his placement at Bridge Cafe in Stonehouse on day 1 and they have been so impressed with him, they have offered him a paid job for the summer holidays. Olivia Prosser has blossomed at Pure Office and has impressed them so much that they have extended her original 3-day placement to the full 5 days. Sophie Evans has equally impressed the PE department at Denmark Road by getting stuck into all their activities and feedback about Clayton O'Grady is that he has also been a complete star at Kingsway Primary School. Huge congratulations to all Year 10s for throwing themselves into their work experience placements and even if what they have learnt from it is that they do not want to go into that industry, this is in itself a valuable outcome from the experience.
It also saw our first in-person Induction evenings for 3 years. Held over 2 nights due to the size of the incoming year group, we were able to welcome the new students and their families to Severn Vale. It made such a difference getting the opportunity to meet parents and students in person. The Year 6 students have also been visiting Severn Vale during the day ahead of their induction days on Friday 2nd and Monday 5th September. I'm very much looking forward to working with this new year group from September.
We were also able to hold our Year 5 Forensic Science days this week which saw over 150 students from Field Court, Meadowside, Beech Green and Kingsway primary schools visit Severn Vale. The students were able to carry out a range of different investigations as well as recording their results as true scientists do. The feedback from the staff and students who took part was fabulous, with many of the Year 5s describing it as a highlight of their school year!
On Wednesday, 40 of our Year7 and 8 students went to see a production of Michael Morpurgo's Private Peaceful at the Everyman Theatre in Cheltenham. Having studied the book in lessons, students were amazed to see the world of Tommo and Charlie Peaceful brought to life on the stage. Following the production some of the students said: "It was great to see it brought to life on stage! The war scenes were so realistic."; "It was amazing to go to the theatre for the first time! It made the story so much easier to understand. I would definitely go again." We look forward to taking the students on more theatre trips in the new academic year.
There have been a number of sporting fixtures including:
Year 7 Cricket – the boys had two games this week. On Monday they attended another great cricket mini festival at Crypt. The students played in teams of 8, all getting a chance to bat & bowl, no formal recording of scores, with the focus on just loving playing & learning! On Thursday, the boys played another participation game against Barnwood Park. This has been a great introduction to the game and has hopefully given the students the cricket-bug!
Year 8 Cricket – the girls played their second cricket fixture against Denmark Road High School. It was a brilliant game and the girls showed massive progress from their first game. The result was a very close defeat by just 8 runs. Sasha got batter of the match and Grace T got fielder of the match.
Year 9 Cricket – the Year 9 boys Cricket team won their match against Barnwood Park this week. Having scored 74 runs for the loss of 3 wickets they limited to just 46 runs in what was a really great team performance!!
Year 9 Rounders – the Year 9 girls lost in a very close game against Holmleigh Park on Tuesday, 12.5 - 10. Izzy Brotherston and Taylor Gibbs were players of the match.
A reminder that for the first time in 3 years we will be staging our annual summer concert on Wednesday 13th July at 6pm. The theme this is 'Back to the 90s' and it is sure to be a wonderful evening of performances celebrating our musical talent and progress across years 7-11. This is a free event with an online ticketing system which can be accessed at via the following link - www.ticketsource.co.uk/svsmusicdepartment.
As always, I include my weekly reminder about Free School Meals eligibility. If your financial circumstances have changed, your child may be eligible for Free School Meals. If you click on this link you will find guidance on the eligibility criteria and the application process. It's a quick process and we are notified of all FSM entitlements by Gloucestershire County Council each Monday. I would urge you to take a look if you think you may benefit from financial assistance.
And finally, we are expecting a hot spell of weather next week. As a consequence, we will not require the students to have their blazers in school. Please do remind your son / daughter to take important items eg locker keys out of blazer pockets!! Given the hot weather it is very important that students have a refillable drink bottle with them. We have numerous water taps around the school that students can use at break and lunchtime to ensure they remain hydrated. Thanks in advance for your support with this.
I hope you enjoy what promises to be a glorious weekend.
Kind regards
Richard Johnson
Headteacher