Headteacher's Blog 23-9-22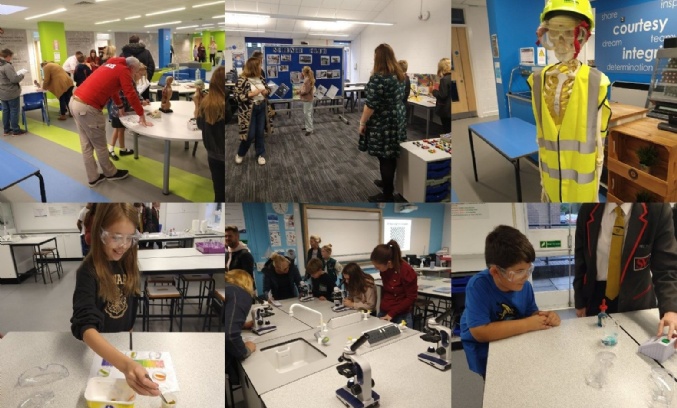 It was Open Evening this week which proved to be a fabulous event
It has been a shorter week this week following the Bank Holiday to mark the Queen's funeral on Monday, but a busy one nonetheless. The week has been dominated by our Open Evening. It was a pleasure to show our school off to visitors of which there were in excess of 900. We had over 350 students supporting the event last night, 1 in 4 of our students. They were brilliant and represented the school superbly. The feedback from all the visitors I spoke to mentioned them and how well they spoke about the school. It was a pleasure to reward those who took part with a chocolate treat today! We are now looking forward to welcoming visitors to our two walkrounds, the first of which takes place next Tuesday.
We are clear that we want our students to be smart and to wear their uniform with pride. It is clear that the overwhelming majority of students and parents share that feeling and that is reflected in the appearance of the students. There are a very small number of students that are currently not meeting our expectations. We are happy to help if there are genuine issues preventing those students wearing the correct uniform. What we aren't prepared to do is to lower our expectations. I would like to take this opportunity to thank you for your support with this.
Prior to the pandemic, we had a parent voice group who met with me at regular intervals during the year. This parent voice group gave parents a forum to discuss issues with me and gave the school a sounding board for ideas that were being planned. I am keen to re-establish the group and will be writing with more details next term. If you think this may be of interest to you, please do look out for further communication in term 2.
I was pleased to welcome Revd. Dr Mark Siddall and Revd Richard Martin into school this week. Revd Mark is priest-in-charge of St James and St Mary Kingsway and Quedgeley and Rev Richard is the priest-in-charge of Hardwicke, Elmore and Longney. Together we are looking to establish a Chaplaincy within the school to complement existing pastoral provision. Revd Mark has been in at lunchtime and has been meeting students; introducing himself and getting to know them. I look forward to this link developing over the coming months.
More sporting success for Severn Vale students. Last Sunday saw Year 11 Student Finley Williamson, alongside his Cheltenham Bowls Club team mates, win Bowls England's National Title Men's 'Top Club'. With 630 teams across England having entered, they won 7 rounds regionally to get to the national finals. The team then had a further three games over the weekend to reach the final against Culm Vale bowls club from Devon which included Commonweath Gold Medallist Jamie Chestney! This is an outstanding achievement considering Fin's age and the average age of the other 10 players being 35!
As always, I include my weekly reminder about Free School Meals eligibility. If your financial circumstances have changed, your child may be eligible for Free School Meals. If you click on this link you will find guidance on the eligibility criteria and the application process. It's a quick process and we are notified of all FSM entitlements by Gloucestershire County Council each Monday. I would urge you to take a look if you think you may benefit from financial assistance.
I do hope you have a great weekend.
Kind regards
Richard Johnson
Headteacher