Headteacher's Blog 14-10-22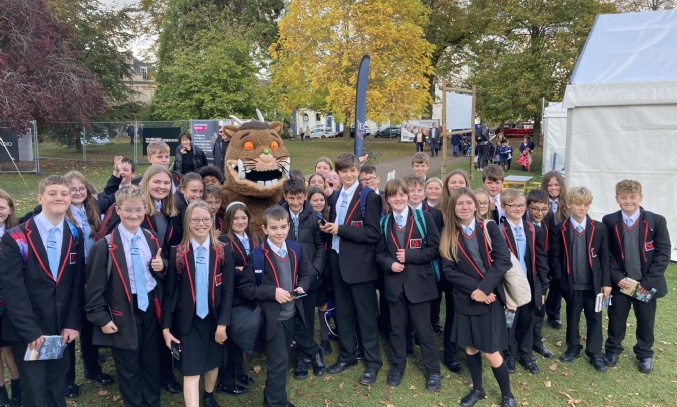 Trips to the Cheltenham Literature Festival took centre stage this week which included Year 7 meeting the Gruffalo
Our first term of the academic year draws to a close today. Those 6 weeks have certainly flown by!
It has been a productive term with so many groups impressing with their attitude and effort. Our Year 7 students have made a fantastic start to their time at Severn Vale and have shown the enormous potential that they have. I am really enjoying working with them and look forward to seeing them continue to grow and develop over the course of the academic year and beyond.
I have been particularly impressed with the way our Year 11 students have engaged with the additional support available to them via period 6 in English and the wide range of intervention provision that is offered. Their appetite for this support is superb. I know this will pay dividends in their forthcoming mock exams and beyond.
Indeed, across all year groups, the level of engagement with after school intervention has been superb. The students can see its purpose and know it is helping them. I am also grateful to the staff who ensure this additional provision is available to our students.
You will know from the Mr Ball's parentmail that all KS3 students have their Order A Assessment Week in the week beginning 7th November. That week also sees Year 11 students complete their first Core Mocks. I know that all students will have clear guidance on Satchel One regarding how to prepare for these important assessments. Half-term will provide a great opportunity for students to get this completed. Thank you in advance for your support in ensuring this happens.
This week has seen over 150 students take part in one of a number of visits to the Cheltenham Literature Festival. We are fortunate to enjoy an excellent relationship with the team at the Cheltenham Festivals which means we are able to ensure that our students get access to some fantastic opportunities. I was lucky enough to join the Year 7s who visited the Festival on Thursday to hear a talk by Katya Balen discussing her new novel The Light in Everything. Inspiring a love of reading is at the top of our priorities at Severn Vale and I hope that the students taking part this week have been suitably inspired.
A group of our Year 11 students visited the Newport Wetlands Centre this week as part of their GCSE Science studies. I received an email from the staff hosting the visit who described the students as "absolutely incredible and a real credit to Severn Vale School." Indeed they told me that visitors and staff that were on the reserve kept asking what school they were from as they couldn't believe how respectful they were of both the wildlife and of the other visitors. I can't tell you how proud that made me feel!
This week's sporting fixtures have included:
The Year 7 girls football team played two matches this week. In the first they drew 2-2 with Gloucester Academy in what was a really tight game. Player of the Match went to Faith Smart. In the second they defeated Churchdown 1-0 with another Player of the Match performance from Faith.
The Year 8 rugby team played Marling this week. In a tough game for the boys, they lost 6 tries to 2 but learnt a lot. Players of the Match went to Ted Lillywhite and Kieron Moore. The Year 8s have five games to look forward to throughout November and we look forward to seeing them continue to develop through the season.
The Year 8/9 girls football team continued their fine form this season with a 5-0 victory against Gloucester Academy. Player of the Match went to Elle Moroney for the second match in a row.
The year 9 football team won in comfortable fashion against Chosen Hill on Monday night and are through to the 3rd round of the ESFA CUP. The score was 9-2 with a hat trick from Luke Roberts, two for Will Hine and one each for Kaelen Venna, Seb Brockbank, Jaiden Brown. The pick of the bunch came from Deshay Tyler who chipped the ball from just inside his own half to lob the keeper. All the boys played fantastically well both individually and as a team. We are awaiting or next opponents.
The year 9 rugby team also had a great win against Marling on Tuesday night with a 28-15 win. The boys scored some excellent tries with Enoch Salami running through most of the opposition the length of the field as the pick of them. The boys played with a real doggedness and displayed some superb off loading at times. The win was especially pleasing as we had several key players missing which shows our strength in depth.
The Year 10 rugby team played Newent in a very competitive game from which Severn vale emerged victorious 17-5. The boys played some great phases and our ball retention was superb. There were strong performances from Olly Bond and Oscar Berry and another Player of the Match performance from Jaiden Cornock. Churchdown, Gloucester Academy and Dene Magna await after half term.
Congratulations also go to both Zane Hunt and Mia Stansfield. Both competed in the South-West Championships in Bristol last weekend, and both received a gold medal in their respective categories.
As always, I include my weekly reminder about Free School Meals eligibility. If your financial circumstances have changed, your child may be eligible for Free School Meals. If you click on this link you will find guidance on the eligibility criteria and the application process. It's a quick process and we are notified of all FSM entitlements by Gloucestershire County Council each Monday. I would urge you to take a look if you think you may benefit from financial assistance.
Best wishes for the half-term
We will welcome the students back on Monday 31 October. It will be a week A.
Richard Johnson
Headteacher