HEadteacher's Blog 4-11-22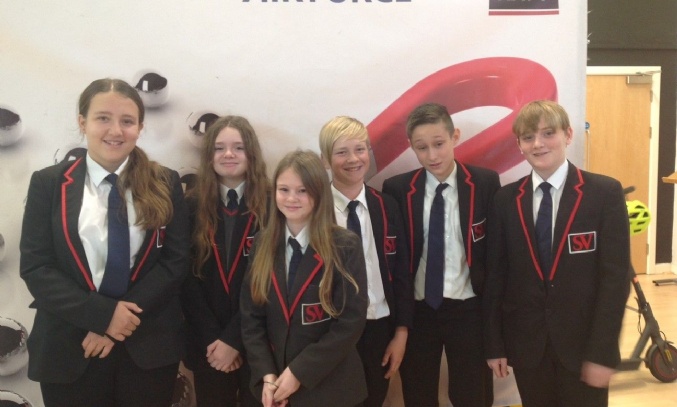 Term 2 started this week with our Year 7 and 8 students gaining an insight into the world of science, technology, engineering and maths courtesy of an interactive presentation by BAE Systems' education programme.
Term 2 started this week. The students have returned with the positive attitude we expect and as a consequence the school has been the calm and productive place we like to see despite some quite wild Autumnal weather!
The week started with Year 7 and 8 gaining an insight into the world of science, technology, engineering and maths. The interactive presentation was by BAE Systems' education programme, and their roadshow team, in partnership with RAF and the Royal Navy. The show was very informative on its particular focus on magnetism, and some of the surprising ways magnets apply in real-life. The students were able to watch one of the team be suspended in a harness via a magnet, witness 'magic' with the magnetic secrets revealed, and take part in "Who Wants to Be a Magnet-aire?" We are grateful for the opportunity to enjoy this show and hope that it has ignited an interest in engineering for some students.
Our Year 7 students also begin their practice for the big sing. This will see the year group divided into 3 choirs, each made up of 3 tutor groups. They are then learning a song in readiness for a grand performance just before Christmas. It has been a pleasure to see the students singing with such gusto through the week. With the able support of our music department, I know they will produce fantastic performances later this term.
A number of fixtures this week were victims of the weather with waterlogged pitches leading to postponements. One game did take place and that saw the Year 8/9 girls football team take on Holmleigh Park. The girls played brilliantly and won 11-1. Player of the match was Elle Moroney who scored a hat-trick.
Congratulations on the sporting front must go to:
Alvin Dixon in Year 7 who has been selected to join Aston Villa's football academy.
Harley Mustoe in Year 11 who has been selected to play for the Gloucestershire Under-16 football team.
Dylan Bhatti who has been voted Under-17 Athlete of the Year for Gloucester Athletics.
Oliver Thornhill who is cycling 300 miles in November to raise money for Alzheimer's Research UK. He set himself the target of raising £250 and is already exceeded £300. Details of the challenge can be found here.
A reminder that next week sees all KS3 students taking their Order A Assessments. It also sees Year 11 students complete their first Core Mocks. The students have been preparing for these assessments through homework activities set over the past 4 weeks. I know they will treat them with the respect they deserve.
Next Friday is Armistice Day. We have been selling poppies this week in school and will continue to do so next week. With catering now cashless, students often don't have any cash with them. There is no minimum donation and any sum will be beneficial to what is a very worthwhile cause.
As always, I include my weekly reminder about Free School Meals eligibility. If your financial circumstances have changed, your child may be eligible for Free School Meals. If you click on this link you will find guidance on the eligibility criteria and the application process. It's a quick process and we are notified of all FSM entitlements by Gloucestershire County Council each Monday. I would urge you to take a look if you think you may benefit from financial assistance.
Finally, we received some very sad news about a former teacher at Severn Vale, Angela Pearce. Angela was an English teacher at Severn Vale for 24 years who retired in December 2020. Angela's classroom was always a vibrant place to be. Her passion for literature was immense and she used her encyclopaedic knowledge to illuminate her lessons. What should have been a long and well-deserved retirement was cruelly cut short following a final battle with cancer. She died peacefully, surrounded by her family earlier this week. Our thoughts are with her family and friends at this time.
Kind regards
Richard Johnson
Headteacher