Headteacher's Blog 25-11-22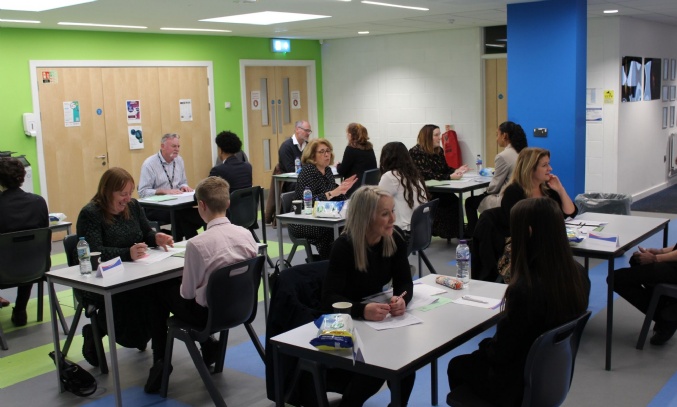 Our Year 10s took part in mock interviews as part of this week's Flexible Learning Day
This week has been dominated by Thursday's Flexible Learning Day. The FLD allows the school to put on a range of wider curricular opportunities, in particular delivering core elements of our careers provision. This saw all of our Year 11 students visit a range of post-16 providers to experience life at college / sixth form. This will help them as they prepare vital post-16 applications. It also saw our Year 10 students take part in their mock interview day. I always think this is a hugely important day for the students as it gives them the opportunity to develop and practise interview skills before they have to do it for real. I know they will see the real benefit of this when they complete interviews as part of their post-16 applications next year. I must also say a huge thank you to the many volunteers who generously gave up their time to support us with the interviews.
We were pleased to welcome the police to Severn Vale this week. They brought their mobile police station to school on Tuesday and met with some of our Year 7 students at lunch. This was an informal opportunity for the police to offer advice, educate around county lines and develop positive relationships between local officers and young people. We look forward to developing these links further as part of our work to help our students keep safe in the community.
34 of our music students got the opportunity to visit London this week. As well as getting to see a production of the musical version of Back to the Future, the students also got to take part in workshops to help them develop key musical and performance skills. Feedback from the staff on the trip was extremely positive with the students representing the school superbly.
Our GCSE Badminton players enjoyed a trip to Holmleigh Park for some joint moderation. This gave our PE staff the opportunity to watch our students against other GCSE students in a competitive environment. The students took full advantage of the opportunity, demonstrating their skills and working superbly with students from a different school. I know the PE department are looking forward to hosting some more Badminton joint moderation in two weeks and also Table Tennis moderation with Dene Magna later in the term.
A number of fixtures were postponed this week due to the appalling weather. The fixtures that survived included:
Year 7 girls football – the Year 7 footballers took part in a mini-tournament with St Peter's and Denmark Road. The girls drew 0-0 vs St Peter's A team (Hannah M voted as player of the match); they drew 0-0 vs St Peter's B team (Millie N voted as player of the match) and won 2-0 vs Denmark Road (Millie N voted as player of the match again).
Year 9 boys football – the Year 9 footballers played their 4th round FA Cup tie this week against Churchdown School. The 4-1 defeat did not reflect how hard fought the game was. We wish Churchdown well in the 5th round.
Our As always, I include my weekly reminder about Free School Meals eligibility. If your financial circumstances have changed, your child may be eligible for Free School Meals. If you click on this link you will find guidance on the eligibility criteria and the application process. It's a quick process and we are notified of all FSM entitlements by Gloucestershire County Council each Monday. I would urge you to take a look if you think you may benefit from financial assistance.
I hope you have a fabulous weekend.
Kind regards
Richard Johnson
Headteacher