Headteacher's Blog 2-12-22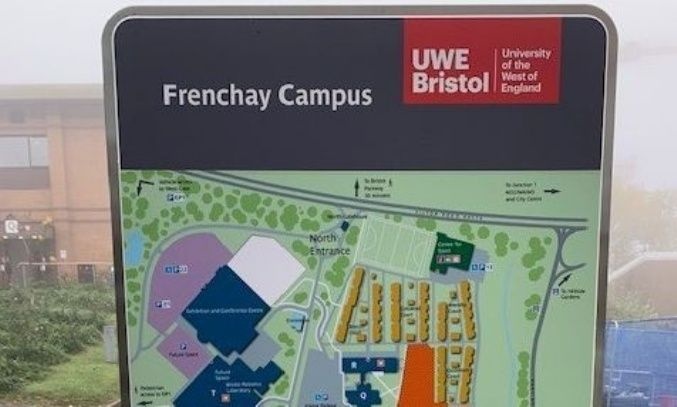 A visit to the University of the West of England was one of the highlights this week
The Christmas tree went up in school this week. Although Christmas is rapidly approaching there are still two weeks of term remaining and these are as important as any other weeks of the year so full attendance is expected.
Attendance this year remains a concern. Whilst attendance at Severn Vale is still higher than figures seen locally and nationally, it should be higher. Missing days of school really does have an impact both academically and socially. We know that students with 98% + attendance are on average far more successful than their lower-attending peers. Thank you for the part that you play in ensuring your child attends school every day so we can provide them with the education they need and deserve so they can be the best version of themselves. Should you have any questions or require any additional support with your child's attendance, please do not hesitate to contact your child's Head of Year.
A real highlight for me this week was hosting our Awards Evening for the class of 2022. These students delivered some outstanding exam results, the best in the school's history. This is even more impressive when you consider the disruption these students faced during their secondary education. It was a pleasure to hear about their progress in their many Sixth Forms, Colleges and Apprenticeships and to know that their time at Severn Vale has provided them with a great foundation for further success.
This week has also seen the termly music performance platforms taking place at lunchtime. This has seen students from across all year groups have the opportunity to perform in front of a small audience. I know many are using these performances to help them prepare for the upcoming Winter Showcase which will take place on 12 December.
On Tuesday, a group of students went to UWE in Bristol to take part in a Stepping into University day which was organised by South West Universities Care. The day saw the students take part in a scavenger hunt across the Frenchay Campus, meet students to find out their views on university life and listen to talks on writing personal statements, support available and student finance. The day proved inspirational to students and allowed them to see the doors that university life can open. Most importantly, they saw that despite the challenges that face them, there are people on hand to provide support and that in life, they really can achieve anything they want to.
I have been delighted to hear that our Warhammer club has been going from strength to strength. The students are currently building and painting their models in preparation for forthcoming battles. Over the next few weeks they will begin to battle each other and add to their collection. We hope that after Christmas more students can join. If your child is interested, please do direct them to see Mr Ball who can give them all the details.
A number of fixtures were postponed again this week. The fixtures that survived included:
Year 7 Rugby – the Year 7 boys went to Newent for their first 'Training Game' this week. It was a great evening and wonderful experience for our boys to play some competitive rugby; for 12 of the boys it was their first ever game! They lost 5 tries to 1 but the experience was the important lesson. I know the boys are looking forward to hosting GA in last week of term.

KS4 Hockey – The KS4 Girls Hockey team were involved in a brilliant game against Denmark Road this week. A close and competitive game ended 2 - 2 with Summer Walsh receiving Player of the Match in her last game for Severn Vale.
More success on the sporting front for a Severn Vale student to report. Congratulations go to Year 9 student Maddie Reeves who is now the Elementary GB Skate Artistic Roller Cup Champion 2022. Finishing 2nd, 1st & 1st over 3 competitions saw her take first place overall. Maddie is extremely committed to her skating and her hard work is paying off. Well done Maddie.
Our As always, I include my weekly reminder about Free School Meals eligibility. If your financial circumstances have changed, your child may be eligible for Free School Meals. If you click on this link you will find guidance on the eligibility criteria and the application process. It's a quick process and we are notified of all FSM entitlements by Gloucestershire County Council each Monday. I would urge you to take a look if you think you may benefit from financial assistance.
If you're a football fan there is a big England fixture coming up on Sunday. Dare we believe that it could be coming home?
Kind regards
Richard Johnson
Headteacher