Headteacher's Blog 28-4-23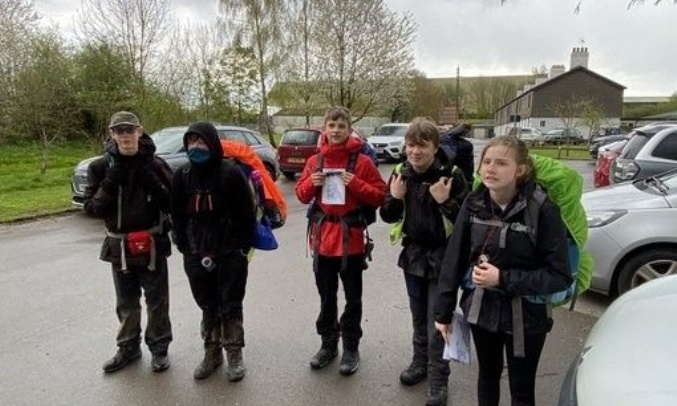 It was a wet weekend for the students completing their DofE practice expedition
One of the very best parts of my job is to celebrate the outstanding academic achievements of our students. This week I had the pleasure of issuing certificates to the students in Years 7 – 9 who were the highest achieving in our recent Order Assessments and those who made the most progress since the last set of Order Assessments. It was great to see the students and to recognise the effort and application they have put in to deliver this success.
The Order assessments have also allowed us to identify students who would benefit from additional support to enable them to realise their potential. I know Mr Ball will be in contact with parents / students regarding the next set of intervention which will begin for these students shortly.
Whilst the main GCSE exam season does not begin until 15 May, for many students their exams started this week with the Art, Design and Technology practicals and the Spanish orals. It has been fabulous to see how the Year 11 students have tackled these exams. In ADT there has been some stunning work produced by the students in their 10 hours. The feedback from the Languages department has also been really positive with students rising to the challenge of the oral exam. It has been clear how much work has been put in by the students to enable them to perform so well.
This week also saw 30 students in Year 7 and 8 take part in the Junior Maths Challenge organised by the UK Mathematics Trust. The UK Mathematics Trust is a charity whose aim is to advance the education of young people in mathematics. The questions are hard and genuinely demand mathematical reasoning, precision of thought, and fluency in using basic mathematical techniques. Well done to all who participated.
Last weekend saw students who are doing their Bronze and Silver DofE awards complete their practice expeditions. All those involved successfully navigated their way around the Berkeley Vale, spent one or two nights under canvas and cooked for themselves using a trangia. Everyone did really well in particularly challenging weather with it raining heavily for a large part of the expedition. This meant that Saturday night's campsite was a bog on Sunday morning. Thankfully the part where the tents were was the least boggy part, but it also meant that navigation was tricky in places due to boggy paths on the Sunday. A few students ended up rather muddy by the time they got back to the collection point. Parents who were following @SVSDofE on Twitter were hopefully pre-warned before they picked up their children. The qualifying expedition is now just over three weeks away, so fingers crossed that everyone has dried out by then and that the weather for this expedition is slightly better.
On the sporting front our Under 14 Girls Football Team travelled to Bristol to play against Downend School in a County Cup quarter-final. It was a tough match against a very experienced and well drilled team. Our girls defended well and kept the opposition at bay for some time before they finally scored and the girls started losing confidence. A few more goals were conceded before half-time, but they came back fighting early in the second half. Elle managed to score a brace, but unfortunately this wasn't enough. Well done to Evelyn who was nominated as player of the match for incredible defensive work.
Unfortunately, this week saw another day affected by the ongoing industrial action. I know it is deeply frustrating to all concerned that our students are once again seeing their education disrupted. The ongoing dispute needs resolving. The easiest way for that to happen is for talks to resume. I can only hope that common sense reigns once again and this can happen.
Next week is also a disrupted week. Monday is a Bank Holiday and on Tuesday we have what will hopefully be the last of the days of industrial action. Only Year 10 and Year 11 students will be in on Tuesday. The rest of the week is normal. Let's hope that normality can continue for the rest of the academic year.
A reminder that a recent analysis showed that approximately 10% of those who are entitled to Free School Meals are not currently taking advantage of this scheme. If you think your child may be eligible for Free School Meals you can click on this link to find guidance on the eligibility criteria and the application process. It's a quick process and we are notified of all FSM entitlements by GCC each Monday. I would urge you to take a look if you think you may benefit from financial assistance.
I do hope you enjoy the bank holiday weekend.
Regards,
Richard Johnson
Headteacher