Headteacher's Blog 19-5-23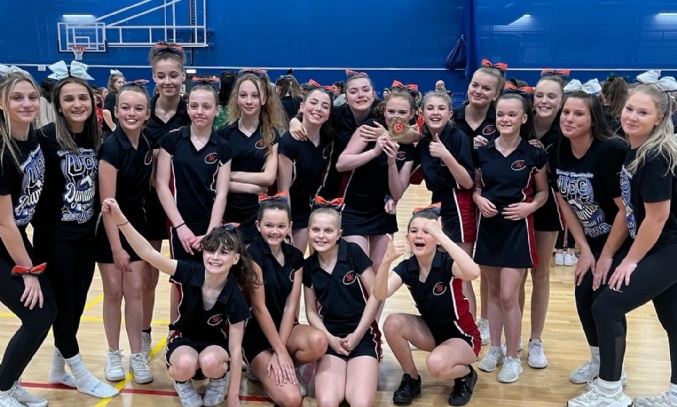 A superb performance saw the school's Cheerleading squad claim a superb victory in the Gloucestershire Cheer for Schools competition
The GCSE exam season kicked off this week. All of our Year 11 students have had a demanding week with multiple exams taking place. For some that has even involved tackling 3 exams in one day, which is no easy feat. To their credit, the attitude and the conduct of the students to date has been excellent. They have risen to the challenge and given 100% in each exam. Thank you for the support you are giving them at what is a testing 5 week period.
Mr Rogers wrote to parents earlier this week about the launch of the miMove app. I'm excited about the potential of miMove to help develop and encourage our students to participate in a range of physical activities. The benefits of exercise are well known, both in terms of physical well-being and in terms of an individual's mental health. I would encourage you to explore the app with your child to see how it could benefit your child. Thank you in advance for your support with this.
Some excellent news. Recently a group of our Year 7 and 8s took part in the Junior Maths Challenge run by the UK Mathematics Trust. The questions are genuinely hard and demand mathematical reasoning, precision of thought, and fluency in using basic mathematical techniques. I'm really pleased to report that the students achieved 14 Bronze Awards, 7 Silver Awards and for the first time in the school's history, 3 Gold Awards were achieved. A huge congratulations to all who participated.
26 of our Year 10 Child Development students recently visited the NEC Baby show to develop their knowledge and understanding of equipment and childcare for the first year of a child's life. This included many talks on first aid, safe sleeping, feeding and care of a baby. Students were able to test a variety of baby equipment such as pushchairs, baby carriers, nappies and much, much more. A fantastic day was had by all.
Our amazing cheer squad have been training for the past 5 months and been working incredibly hard on their stunts, tumbling and dance routine. Our diverse squad includes students from all 5 year groups and they have been coached by ex-student, Chelsea Weston. They have committed to extra lunch and after-school training sessions and put together a superb routine. Last Friday we took the squad to compete in the Gloucestershire Cheer for Schools competition, which included competitors from across the county and even from Wales. The girl's routine was flawless, and they all performed with so much energy and enthusiasm. It was an absolute delight to watch them. Needless to say their performance impressed the judges and they were awarded 1st place. We could not prouder of them.
Squad: Anya B, Isobel B, Charlotte D, Macy H, Keeley F, Millie S, Katie M, Olivia M, Megan E, Lauren N, Chloe S, Kara N, Rebecca M, Jess C and Francesca B.
In other sporting news:
Year 7 Cricket - we hosted our first mass participation cricket fixture against Holmleigh Park on Monday. They had slightly less numbers than us so we decided to mix up the teams. SV and HP both batted and fielded together and it was a brilliant evening which saw some great bowling from Rhys L and fantastic batting from Alimar F.

Cricket All-Stars – our cricket All-Stars are made up from players from all year groups in the school. They played their first fixture versus Holmleigh Park on Thursday. We have real talent in the team with excellent batting skills and very accurate bowlers. A great team effort saw the All Stars secure a comfortable victory.

Year 7 Rounders – the Year 7 girls played their first ever fixture versus Newent this week. There were some nerves, but the girls were brilliant and won 10 – 7. Players went to Lotte H and Emilia J.

Year 8 Rounders –The Year 8 A and B teams had fixtures versus Holmleigh Park this week. The Year 8A team lost 5 – 6.5. Our B team also played against their A team and lost 2.5 - 9. The girls showed great sportsmanship and supported each other really well. Batters of the match from each team went to Mia S and Amarni F, fielders of the match from each team went to Millie S and Katie M. The Year 8s also played Newent, winning a fabulous game 15 – 11. Players went to Millie S and Isabel R.

Year 9 Rounders - the Year 9 girls played their first fixture of the year against Newent. Some very slick fielding and consistent batting led to an 11.5 - 4 victory. Player of the match was Amy N who made some excellent catches and incredible throws as backstop.

Year 10 Rounders – the Year 10 girls also played their first fixture versus Newent. The result was an 11-6.5 defeat. Player of the match went to Jess U.
My regular reminder that a recent analysis showed that approximately 10% of those who are entitled to Free School Meals are not currently taking advantage of this scheme. If you think your child may be eligible for Free School Meals you can click on this link to find guidance on the eligibility criteria and the application process. It's a quick process and we are notified of all FSM entitlements by GCC each Monday. I would urge you to take a look if you think you may benefit from financial assistance.
And finally, good luck to our many students doing their qualifying expedition as part of their DofE Award this weekend. It looks like the weather Gods will be smiling on them.
Regards
Regards,
Richard Johnson
Headteacher