Headteacher's Blog 30-6-23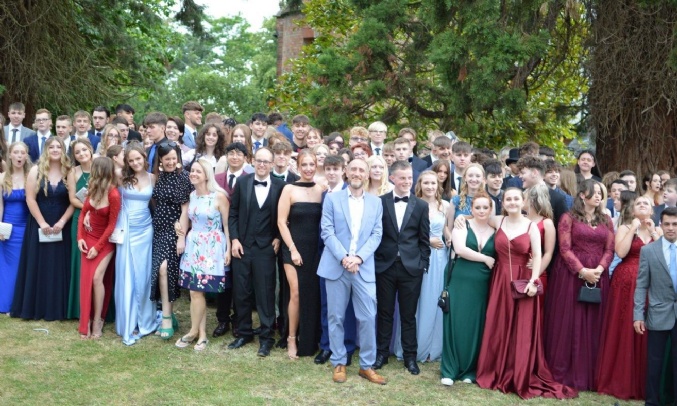 Last Friday saw the final act of the academic year for our Year 11 students with their Prom at Hatherley Manor
Last Friday saw the final act of the academic year for our Year 11 students with their Prom at Hatherley Manor. As ever there were some fantastic arrivals with Naty's motorised shopping trolley and Billy's motorbike cavalcade amongst the most memorable. It was a brilliant evening, enjoyed by all and was a truly fantastic way to end their time at Severn Vale.
With the Year 11 students having left, this week saw the interviews for our new group of student leaders. The process involved writing letters of applications and a formal interview. The students performed really well and the process of identifying the final twelve was a real challenge. Those that have been chosen will represent the school in a range of key events, meet with me termly to discuss student priorities and also benefit from a specific leadership programme. It has been a pleasure working with the class of 2023's student leaders. I am very much looking forward to working with the class of 2024's from next week.
Whilst many of their classmates were snoozing in bed on the recent INSET day, 7 of our Year 10 student visited the UCAS Discovery Exhibition at the NEC in Birmingham. The conference boasts over 100 universities, colleges, and apprenticeship employers. The purpose of the trip was to allow our KS4 students to start thinking about different options and career pathways available to them after they finish Sixth-Form or College. From subject talks to robot dogs, our students enjoyed a packed 2 hours visiting the exhibitors. It was a joy to hear the students enthusing over the amazing courses that they themselves could be applying for in a few years. We are already planning next year's event and are hoping to widen it out to more students, in order to raise their aspirations and see the amazing opportunities available to them.
On the same day students from KS3 attended the celebration event for the Sustainable Transport Challenge at the University of Bath. Students have been working hard to design a sustainable vehicle and plan a journey to an area of ecological significance. They came up with a range of ideas, including a submarine, a plane and "The Quadski" all built from sustainable and recycled materials. Students presented their ideas to a range of professionals, lecturers and University of Bath students. They did brilliantly in answering questions and explaining their ideas! The day consisted of a talk from a lecturer on climate change, a route planning activity with travel planners from Stantec and a virtual fly-through experience of Bristol in the Explorer Dome. Students also took part in a "Connecting Global Citizens Workshop" where they created a piece of art that reflects their feelings on climate change.
I would like to extend a huge thank you to the Jerusalem Trust, a Christian charity that award grants to schools in order to support the teaching of Christianity. We have been lucky enough to be awarded grants over the past 2 years which has enabled us to purchase new Bibles, textbooks and Christian artefacts for use within the classroom. Every contribution is greatly appreciated as it enables us to develop our resources to further improve provision for our students.
Sporting fixtures over the last 7 days have included:
All-Stars Cricket – our cricket all-stars played King's School this week. In a game against the King's Year 10 team, our mixed team scored a creditable 140 runs in their 20 overs. Despite a valiant bowling effort, the King's team chased our total down to earn a hard-fought victory. It was another great game played in a fabulous spirit.

Year 9 Cricket - The year 9 boys beat Barnwood Year 10 boys on Wednesday night. Both teams batted for 12 overs each and we finished with 90 beating them by 26 runs. Some great fielding and bowling from everyone with notable performances from Mason F, Joe A and Will H.

A second multi-year Athletics meet, this time with Holmleigh Park. There were many excellent performances including another school record this time courtesy of the Year 9 boys team (Enoch S, Kaelan V, Jacob B and Jaiden B) who completed the 4 x 100m relay in 50.05 seconds. Congratulations also to Joe W who smashed the Year 10 shot putt record. The previous record was held by Gareth Winters at 11.73m, Joe managed a whopping 12.22m

I would like to congratulate Year 11 student Dylan Bhatti on being selected to represent Gloucestershire in the U17 100m in the English Schools' Track and Field National Championships.

Further congratulations to Year 10 students Henry D-D who played for both the Gloucestershire U18 cricket team and the senior Gloucestershire second XI.
My regular reminder that a recent analysis showed that approximately 10% of those who are entitled to Free School Meals are not currently taking advantage of this scheme. If you think your child may be eligible for Free School Meals you can click on this link to find guidance on the eligibility criteria and the application process. It's a quick process and we are notified of all FSM entitlements by GCC each Monday. I would urge you to take a look if you think you may benefit from financial assistance.
I hope you enjoy a great weekend.
Regards,
Richard Johnson
Headteacher