Headteacher's blog 13-10-23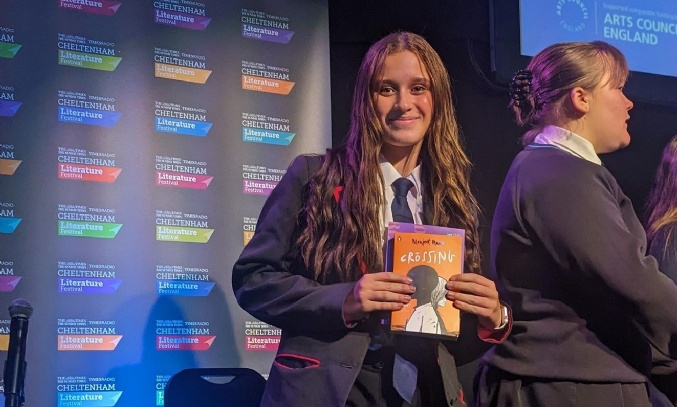 Over 150 of our students enjoyed visits to the Cheltenham Literature Festival this week
Dominating events this week have been a series of visits to the Cheltenham Literature Festival. We are fortunate to enjoy excellent links with the Festival and can consequently offer our students a variety of fabulous opportunities. Across the week over 150 students had the opportunity to take part in a wide range of activities.
One of the highlights was the Battle of the Books. Our students decided to champion The Crossing by Manjeet Mann. They have been working on this debate since July and have given up their free time and lunch times to prepare their speech. Dalia N acted as the group's spokesperson, speaking with confidence and passion about the issues raised in the book. After a gruelling debate, the judges awarded our team a top 3 position! Congratulations to all those who participated:
Dalia N

Niamh H

Genevieve H

Dylan J

Ben S

Lily-Ann C

George H
We welcome and value parental involvement and believe deeply in working in partnership with parents and carers. We know that we share the same hopes and aspirations for our students / your children and that working together is the key to achieving this. Overwhelmingly, communication between home and school is polite, positive and productive. Unfortunately, over the past few weeks, we have had a number of communications from parents that have overstepped the mark and have been rude and aggressive. There is no place for this and we will not tolerate it.
The vast majority of our staff are parents. We all understand that we are looking after the most important people in your life. When you have concerns, emotions can run high. That does not mean that it is ever appropriate to be rude or confrontational. Whilst these incidents are rare, even one incident is one too many. Thank you in advance for your support with this.
As a local school we are lucky that a significant number of our students can cycle to school. This is good for them and good for the environment. It is important that those cycling to school ensure that:
they have a cycle helmet – we have a very clear expectation about this and know that a number of our students avoided serious injury as a consequence of wearing a helmet

their bike is in a good state of repair

as the evenings get darker their bikes do have lights / reflectors

they bring a bike lock to keep their bike safe in the bike sheds
Once again thank you for ensuring your child can cycle to school safely.
Sporting fixtures this week have included:
Year 9 Rugby – our Year 9s beat St Peter's in the first round of EDF Cup 19-12. It was a real physical encounter with both sides going at each other from the first whistle. In an outstanding team performance, special mention goes to Jayden D and Victor O for leading the boys throughout the game in attack and defence and scoring the tries.

Year 9 / 10 Football - well done to the Year 9/10 girls who won 3-2 against Churchdown this evening! Goals from Elle M (2) and Ava L. Player of the Match: Elle M for her goals and brilliant attacking play.

Year 10 Football - the Year 10 boys lost a fiercely contested ESFA Cup match away at Churchdown 3 - 1. They played their hearts out, improving massively on their performance from the first round. Both teams were evenly matched, but Churchdown took their chances better than we did. Stand-out performances from Will H and Kaelen V.
Congratulations also go to Oscar B, Ethan A-T and Josh J who represented Gloucester District in U16 Rugby fixtures against Stroud, Cheltenham, Bristol and the Forest. All three played very well in each game, demonstrating their range of skills. It's an excellent achievement representing the district and your school; well done boys.
As always, I include my weekly reminder about Free School Meals eligibility. If your financial circumstances have changed, your child may be eligible for Free School Meals. If you click on this link you will find guidance on the eligibility criteria and the application process. It's a quick process and we are notified of all FSM entitlements by Gloucestershire County Council each Monday. I would urge you to take a look if you think you may benefit from financial assistance.
Kind regards,
Richard Johnson
Headteacher