Year 10 Apprenticeship Event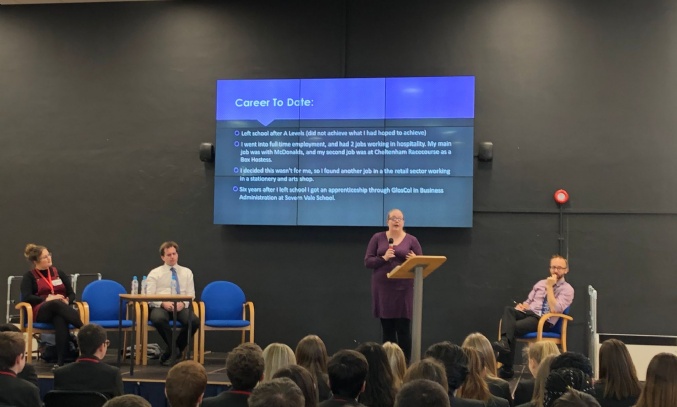 A fantastic careers event this morning, focusing on apprenticeships as part of Severn Vale School's extensive Futures' syllabus.
On Monday, Year 10 students were lucky enough to have a presentation by 4 people who had chosen the apprenticeship route into employment. One of the four presenters was our very own Lauren Hart who joined Severn Vale as an Business Apprentice and is now one of our School Administrators. Many thanks also to Josh from EG Carter, Beth from Dean Magna School and Holly from Amazing Apprenticeships who also presented to our Year 10 pupils giving them an insight into the varied world of apprenticeships and opening up lots of options for them to consider for their future. Each spoke with passion about their chosen industry and offered some invaluable advice about both apprenticeships and career progression in general.
One thing that stood out for me was the varied routes they had taken to get there, be that from school, university, or several jobs before embarking on the apprenticeship path. The key message from all of them was that you don't need to be sure to make a choice. Get started, see it through and then if you want to change direction your experience will still count towards your future plans.
Another useful tip was to remember large companies have a variety of opportunities available. Whilst Starbucks sell drinks, they offer apprenticeships in everything from accounting through to marketing. They're a multinational company with jobs in more than coffee!
The final message they left us with was the importance of being proactive. Anyone interested in an apprenticeship should look on https://www.gov.uk/apply-apprenticeship. The site is updated daily and even if you don't see a job you'd like, read the entry requirements so you get an idea of what companies are looking for. Scour social media, look in shop windows, read the local press and contact companies direct. Any and all of these are routes into an apprenticeship but remember, it's not like looking for a college course with defined entry dates, you're relying on a job coming up and this can happen at any time so you'll need to a) look every week and b) make sure you have a back-up plan in case you don't find something or your employer lets you down.
Anyone looking for further advice and guidance should contact Mrs Martin in the careers office who would be happy to help point you in the right direction.
Mr Hockaday
Subject Leader for Futures